Sites
Bande Dessinée : Blacksad / Expresso de Dupuis / Mezzo : Drugstore family / interview : Tarek dépoussiere-t-il la BD historique ? / Ythaq est-il un spin off de Troy ? / Recette pour faire une Histoire Secrète / Manga : Planétes / Les robots dans le manga Couverture : Métal Hurlant : le magazine, le livre, l'anime, la soirée Ciné / Anim / Musique : A Scanner Darkly / Goldorak Gate / Star Wars Clone Wars / The Dreden Dolls / Swinging London : interview de Christian De Metter Sur le Terrain : Noël : pensez-y !
Wart, webzine PDF gratuit, consacré à la BD... mais pas seulement !
thorgal.com
Ultimate Comics v3.0 : biographies, images, résumés et fonds d'écran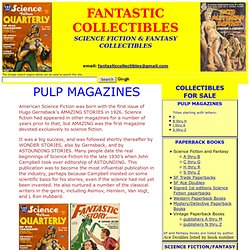 FANTASTIC COLLECTIBLES
American Science Fiction was born with the first issue of Hugo Gernsback's AMAZING STORIES in 1926. Science fiction had appeared in other magazines for a number of years prior to that, but AMAZING was the first magazine devoted exclusively to science fiction. It was a big success, and was followed shortly thereafter by WONDER STORIES, also by Gernsback, and by ASTOUNDING STORIES.
Actualite BD - Critiques BD - La BD sur Neuvieme-art.com : Bande dessinée, manga, comics