Arduino
Welcome to the Arduino tutorial I wish existed when I started hardware hacking.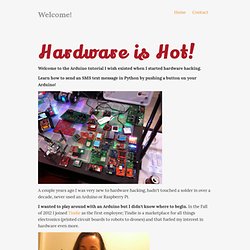 Introduction to Hardware Hacking with Arduino
A sneak preview of Arduino TRE powered by Texas Instruments Zoe Romano — October 3rd, 2013 Next saturday 5th of October Massimo Banzi with Jason Kridner and Gerald Coley (Texas Instrument) will talk about the new collaboration on Arduino TRE during a talk at Maker Faire Rome ( from 15.30 in Room G – Archimede).
A sneak preview of Arduino TRE powered by Texas Instruments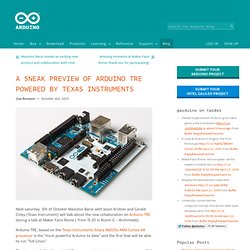 Autodesk et Circuits.io viennent de développer un outils de conception électronique en ligne totalement gratuit. Bien évidement, il ne va vous permettre de réaliser de grands circuits complexes, mais il est une bonne base pour concevoir des shields Arduino très simplement.
123D Circuits : Un outil de conception électronique gratuit en ligne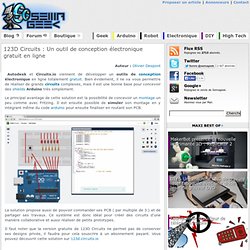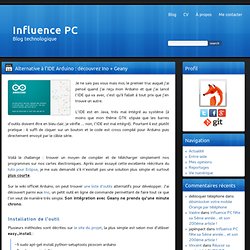 Alternative à l'IDE Arduino : découvrez Ino + Geany
Je ne sais pas vous mais moi, le premier truc auquel j'ai pensé quand j'ai reçu mon Arduino et que j'ai lancé l'IDE qui va avec, c'est qu'il fallait à tout prix que j'en trouve un autre. L'IDE est en Java, très mal intégré au système (à moins que mon thème GTK stipule que les barres d'outils doivent être en bleu clair, je vérifie … non, l'IDE est mal intégré). Pourtant il est plutôt pratique : il suffi de cliquer sur un bouton et le code est cross compilé pour Arduino puis directement envoyé par le câble série.
Connecting Multiple Backpacks | Adafruit LED Backpacks
The coolest part about the I2C backpacks is that you can connect more than one using just the same 2 pins.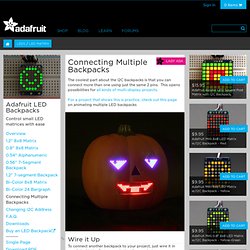 Minty Water Valve Controller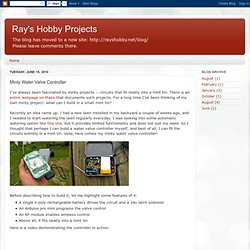 The Design For the water valve, I picked the Orbit yard watering valve . It's widely available in home improvement stores, and it is cheap. It has two pins: applying +24v opens the valve, and -24v closes the valve.
I2C Tutorial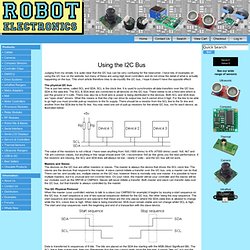 Using the I2C Bus Judging from my emails, it is quite clear that the I2C bus can be very confusing for the newcomer. I have lots of examples on using the I2C bus on the website, but many of these are using high level controllers and do not show the detail of what is actually happening on the bus. This short article therefore tries to de-mystify the I2C bus, I hope it doesn't have the opposite effect!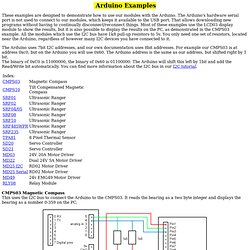 Arduino Examples
Arduino Examples These examples are designed to demonstrate how to use our modules with the Arduino. The Arduino's hardware serial port is not used to connect to our modules, which keeps it available to the USB port. That allows downloading new programs without having to continually disconnect/reconnect things. Most of these examples use the LCD03 display module to show the results, but it is also possible to display the results on the PC, as demonstrated in the CMPS03 example. All the modules which use the I2C bus have 1k8 pull-up resistors to 5v.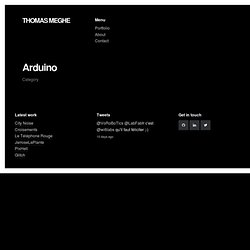 Arduino | Thomas Meghe
Vous souhaitez pouvoir connecter à peu près n'importe quoi à internet sans prise de tête avec les web sockets ? Cet article à pour but de présenter Pusher, API permettant d'ajouter des fonctionnalités temps-réel a vos applications. Il s'agit d'une solution intégrée fonctionnant comme un socket, en moins compliqué.
Accessoires vélo, équipement vélo et cyclotourisme 
Electronique | Informatique Niveau : Avancé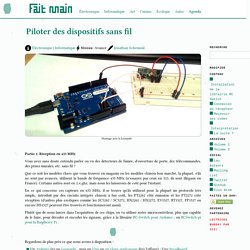 [[ WikiDébrouillards ]] Catégorie:Arduino
Wikidébrouillard : 30 montages simples à faire avec Arduino !
Arduino est un projet qui allie hardware et software. Pour comprendre sa spécificité il faut reprendre la notion de microcontrôleur. Microcontrôleurs everywhere
Arduino, le projet
Blog - [Test] Arduino Uno, prêt pour de la domotique accessible ?
Info Cet article a été posté il y a plus de 3 mois. Il est suceptible de contenir des informations outdated . Il y a quelques temps, on ma confié un Arduino Uno afin que j'en produise un test.
A Touchless 3D Tracking Interface
Explore our growing cookbook of DIY projects for the workshop, kitchen , garage, and backyard.
Paradoxe (apparent) de notre temps : on vit en même temps la crise et une époque formidable ! Dans le monde logiciel, il y a la légende du petit étudiant finlandais qui a démarré l'un des plus grands programmes collaboratifs de notre temps. Dans le monde matériel, il y a désormais celle d' Arduino , le petit circuit imprimé qui a déjà essaimé un nombre incroyable de projets autour de lui. Et tout ça parce qu'ils ont fait le choix du Libre .
Mais puisqu'on vous dit que nous sommes en train de changer le monde !
cybergwen : Que fait un hacker le same
A la découverte de l'Accessory Development Kit pour Android ADK2012 de Google
Parts & Kits for Arduino Online, Buy Microcontroller Boards, Electronic Components for Arduino - LeoStick (Arduino Compatible) - Freetronics
Zigduino, l'unique plateforme Arduino compatible qui intègre le 802.15.4
Arduino Uno BIOS flasher
Statuts Makerspace56
Arduino Arts (arduinoarts) on Twitter
Transformer un clavier en piano avec un Arduino UNO - Semageek - Podcast 1
Arduino - Musique polyphonique
Labs » Arduino Tool That Connects Each Board to it's Own Source
Simon's World
Ateliersarduinolorient
www.mon-club-elec.fr/ateliersarduino/supports/memo_arduino_1_0_v2.pdf
Récupérer la téléinformation avec un arduino | Blog de C-quad
Carte de développement LandTiger, sont trop fort ces chinois ! « Skyduino – Le DIY à la française
TousLesProgrammes
Electronique
Pour un FabLab en Bretagne - Les tweets du BzhLab
dl.dropbox.com/u/12532086/flyer_atelier Arduino lorient_V2.pdf