Architecture - Architect - Decoration
Practically Modern | Design That Works.
Texas. Studioparalelo. Maas Architecten. Rick joy architect. [revelations architect] Tham & Videgård Arkitekter. Zaha Hadid Architects » Home. Jean Prouvé | Architecture | Galerie Patrick Seguin. Working from the postulate that there was no structural difference between a piece of furniture and a building, Jean Prouvé developed a "constructional philosophy" whose artifice-free aesthetic of functionality and fabrication applied the same principles to furnishings and architecture.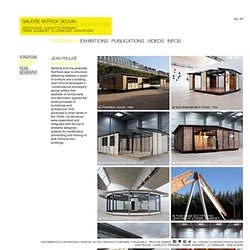 First produced in small series in the 1930s, his structures were assembled and integrated with the aid of shrewdly designed systems for modification, dismantling and moving of both furniture and buildings. Home - Edgley Design - East London award winning RIBA Chartered architectural practice. Architecture 4 us. Projects. Architecture Competitions, Events & News.
Magazines
Wall Paper (Building) Interior.
---