4 Marketing & Distribution
Food Is The New Frontier In Green Tech. This is a guest post from Ali Partovi, angel investor, startup advisor and serial entrepreneur.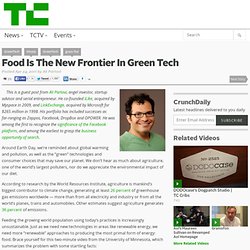 He co-founded iLike, acquired by Myspace in 2009, and LinkExchange, acquired by Microsoft for $265 million in 1998. His portfolio has included successes as far-ranging as Zappos, Facebook, DropBox and OPOWER. He was among the first to recognize the significance of the Facebook platform, and among the earliest to grasp the business opportunity of search. Around Earth Day, we're reminded about global warming and pollution, as well as the "green" technologies and consumer choices that may save our planet. We don't hear as much about agriculture, one of the world's largest polluters, nor do we appreciate the environmental impact of our diet. BrightFarm Systems | Commercial design consultancy in rooftop greenhouses and building integrated agriculture. Farmigo CSA Management Solution.
---