USA UK NE — 07.19.11
Why Anonymous might not be so anonymous - TODAY News. The arrests of 21 individuals Tuesday connected with the Anonymous group and other computer hackers suggest that the suite of digital tools that hackers use to obscure their identities is not foolproof and can be cracked with significant sleuthing.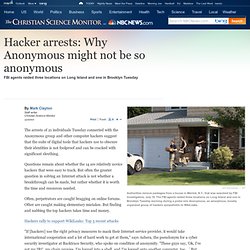 Questions remain about whether the 14 are relatively novice hackers that were easy to track. But often the greater question in solving an Internet attack is not whether a breakthrough can be made, but rather whether it is worth the time and resources needed. Often, perpetrators are caught bragging on online forums. Threat Level. Latest Arrests Show Hacktivism Is A Cat And Mouse Game - Parmy Olson - Disruptors. U.S. cyber arrests seen leading to more hackers. Suspected 'Anonymous' member appears in court, pleads not guilty. SAN JOSE, Calif.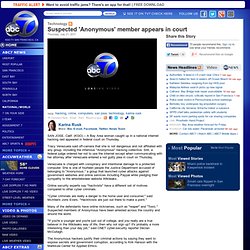 (KGO) -- A Bay Area woman caught up in a national internet hacking raid appeared in federal court on Thursday. Tracy Venezuela said off-camera that she is not dangerous and not affiliated with any group, including the infamous "Anonymous" hacking collective. Still, a federal judge ordered her not to use the internet except when communicating with her attorney after Venezuela entered a not guilty plea in court on Thursday.
Venezuela is charged with conspiracy and intentional damage to a protected computer. She is one of fourteen people the Justice Department accused of belonging to "Anonymous," a group that launched cyber attacks against government websites and online services including Paypal while pledging their sympathy to the whistleblower website Wikileaks. Anonymous Hacker Arrests Include 16-Year-Old Girl and Ex-Resident of Williamsburg: 'Faces of Domestic Terrorism' While the artist lofts on Kent St. in the Williamsburg section of Brooklyn were buzzing with police activity this morning, their neighbors at the similar loft spaces on McKibbin St. had an unrelated run-in with the law yesterday.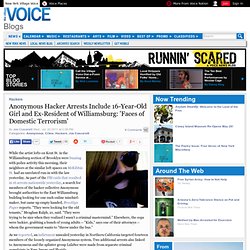 As part of the FBI raids that resulted in 16 arrests nationwide yesterday, a search for members of the hacker collective Anonymous brought authorities to the East Williamsburg building looking for one such online mischief-maker, but came up empty handed, Brooklyn Paper reports. "They were looking for the old tenants," Meaghan Ralph, 21, said. Alleged Anonymous members arrested in hacker attacks. The Justice Department said 16 individuals across the country have been arrested, all but two of whom are believed to be members of the Internet "hacktivist" group Anonymous.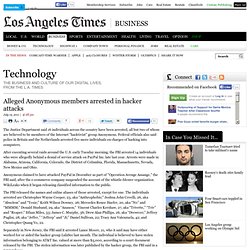 Federal officials also said police in Britain and the Netherlands arrested five more individuals on charges of hacking into computers. After executing several raids around the U.S. early Tuesday morning, the FBI arrested 14 individuals who were allegedly behind a denial of service attack on PayPal Inc. late last year.
Arrests were made in Alabama, Arizona, California, Colorado, the District of Columbia, Florida, Massachusetts, Nevada, New Mexico and Ohio. Anonymous claimed to have attacked PayPal in December as part of "Operation Avenge Assange," the FBI said, after the e-commerce company suspended the account of the whistle-blower organization WikiLeaks when it began releasing classified information to the public. Feds arrest 16 in Anonymous hack probe. High performance access to file storage Federal officials arrested 16 people accused of carrying out computer crimes that damaged or breached protected systems, including a December attack organized by the Anonymous hacker collective on PayPal that caused numerous service disruptions.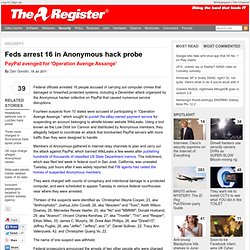 Fourteen suspects from 10 states were accused of participating in "Operation Avenge Assange," which sought to punish the eBay-owned payment service for suspending an account belonging to whistle-blower website WikiLeaks. "Anonymous" hacking suspect arrested in Colorado. By John IngoldThe Denver Post Posted: 07/19/2011 03:32:00 PM MDT|Updated: 3 years ago A masked demonstrator wearing a mask depicting anti-establishment figure from the movie 'V for Vendetta', protests in front of Rijksmuseum in Amsterdam, Netherlands, against the detention in London of WikiLeaks founder Julian Assange, during a demonstration, Saturday, Dec. 11, 2010 in this AP file photo.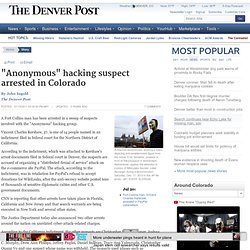 (AP | EVERT ELZINGA) A Fort Collins man has been arrested in a sweep of suspects involved with the "Anonymous" hacking group. Vincent Charles Kershaw, 27, is one of 14 people named in an indictment filed in federal court for the Northern District of California. U.S., British and Dutch police arrest 21 suspects in Anonymous cyber attacks. By BNO News WASHINGTON, D.C.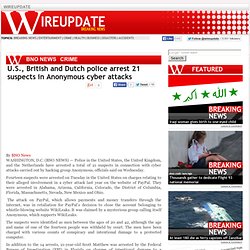 (BNO NEWS) — Police in the United States, the United Kingdom, and the Netherlands have arrested a total of 21 suspects in connection with cyber attacks carried out by hacking group Anonymous, officials said on Wednesday. Fourteen suspects were arrested on Tuesday in the United States on charges relating to their alleged involvement in a cyber attack last year on the website of PayPal. They were arrested in Alabama, Arizona, California, Colorado, the District of Columbia, Florida, Massachusetts, Nevada, New Mexico and Ohio. The attack on PayPal, which allows payments and money transfers through the internet, was in retaliation for PayPal's decision to close the account belonging to whistle-blowing website WikiLeaks. Sixteen Individuals Arrested in the United States for Alleged Roles in Cyber Attacks. Office of Public Affairs Tuesday, July 19, 2011 Sixteen Individuals Arrested in the United States for Alleged Roles in Cyber Attacks More Than 35 Search Warrants Executed in United States, Five Arrests in Europe as Part of Ongoing Cyber Investigations WASHINGTON - Fourteen individuals were arrested today by FBI agents on charges related to their alleged involvement in a cyber attack on PayPal's website as part of an action claimed by the group "Anonymous," announced the Department of Justice and the FBI.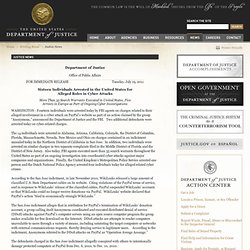 The Government Clampdown on Anonymous for 'Operation Avenge Assange' Widely reported yesterday was the arrest of sixteen individuals alleged to be members of the hacktivist group Anonymous, known engaging in cyber operations for political and social reasons.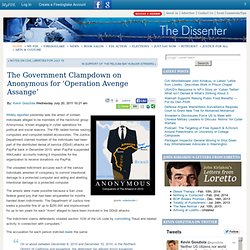 The FBI raided homes seizing computers and computer-related accessories. The Justice Department claimed fourteen of the individuals had been part of the distributed denial of service (DDoS) attacks on PayPal back in December 2010, when PayPal suspended WikiLeaks' accounts making it impossible for the organization to receive donations via PayPal. The unsealed indictment accuses each of the various individuals arrested of conspiracy to commit intentional damage to a protected computer and aiding and abetting intentional damage to a protected computer.
The arrests were made possible because a San Jose federal grand jury that had been empanelled for months handed down indictments. Wikileaks: The US Clampdown on Anonym... Wuzanons arrested July 19 2011. North Fort Myers High grad arrested by FBI, charged in cyber attack. Photo by Facebook Scott Matthew Arciszewski of North Fort Myers was arrested on charges of intentional damage to a protected computer.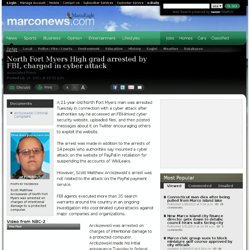 A 21-year-old North Fort Myers man was arrested Tuesday in connection with a cyber attack after authorities say he accessed an FBI-linked cyber security website, uploaded files, and then posted messages about it on Twitter encouraging others to exploit the website. The arrest was made in addition to the arrests of 14 people who authorities say mounted a cyber attack on the website of PayPal in retaliation for suspending the accounts of WikiLeaks. AnonNewsNet: 75 vannings down, over 8,9... AnonNewsNet: #Reddit report from parent... Anthrophobic (Anthrophobic) FBI raided my house with a search warrant today (20 agents, guns drawn) because they seem to believe my 13 year old son was an integral part of the ANON ddos attack on Paypal...... : AskReddit.
AnonymouSabu: ATTN Lawyers: You believe... Anon Indictment. Op_ESR: Hey #FBI why don't you arr... AnonymouSabu: Dedicate sometime today to... Jophus401: Dear government, some of t... Anoncro: #OpFBI #OpFBI #OpFBI #OpFB... Legal Assistance The National Lawyer's Guild has directed me to notify those. BarrettBrownLOL: Legal assistance available...
---