Animation
THE ART CENTER / Sharing Ideas And Tips From Artist To Artist
AnimeBackgrounds
Character Design References (characterdesigh) sur Pinterest
CATSUKA ::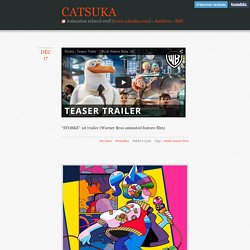 CATSUKA
7000 followers, thank you everyone :-) ! I'm really happy and surprised that Catsuka's tumblr page as so many fans. I hope to stimulate you again. Here are the best posts of 2013 :
collieu.swf (Objet application/x-shockwave-flash)
Madame Tutli-Putli - Visionnez la bande annonce
Court métrage d'animation dans lequel Madame Tutli-Putli monte à bord d'un train de nuit, traînant avec elle tous ses biens. Voyageant en solitaire, elle partage sa cabine avec des étrangers d'apparence tantôt bienveillante, tantôt menaçante.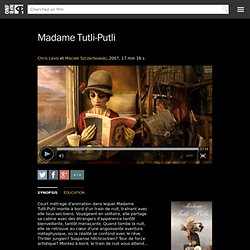 Satoshi Kon
Paranoia Agent (Mousou Dairinin) : réalisation série TV, 13*25 min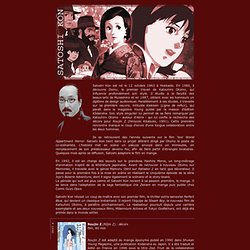 STUDIO4℃
GeniusParty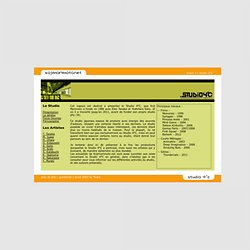 :: KojiMorimoto.net :: - Studio 4°C
Cet espace est destiné a presenter le Studio 4°C, que Koji Morimoto a fondé en 1986 avec Eiko Tanaka et Yoshiharu Sato, et où il a travaillé jusqu'en 2011, avant de fonder son propre studio phy (Φ). Ce studio japonais essaye de produire avec énergie des oeuvres d'auteurs, laissant une certaine liberté à ces derniers.
The Tokyo-based magazine about "Design and Making Things" » Arch
Tekkon Kinkreet (Dir: Michael Arias) ©2006 Taiyo Matsumoto/Shogakukan, Aniplex, Asmik Ace, Beyond C, Dentsu, TOKYO MX, www.TEKKON.NET
Utada Hikaru FLUXIMATION " Wonder'Bout"
What's New At Acme Filmworks
AFCA - Accueil
AWN | Animation World Network
The Cartoon Museum
Sur les traces d'Emile Cohl
Animation Mentor Advanced Character Animation Program
AFCA - brèves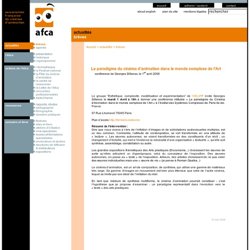 Le groupe "Esthétique, complexité, modélisation et expérimentation" de l'ISC-PIF invite Georges Sifianos le mardi 1 Avril à 18h à donner une conférence intitulée « Le paradigme du Cinéma d'Animation dans le monde complexe de l'Art » à l'Institut des Systèmes Complexes de Paris Ile-de-France 57 Rue Lhomond 75005 Paris Plan d'accès http://formism.net/ecme
DAUMENKINO (The Flip Book Show)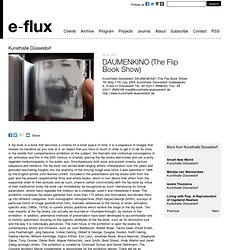 A flip book is a book that becomes a cinema for a short space of time; it is a sequence of images that reveals its narrative as you look at it, an object that you have to touch in order to get it to tell its story. In the worlds first comprehensive exhibition on the subject, the thematic and contextual convergence of art, animation and film in the 20th Century is charted, placing the flip booka well-known and yet scantly regarded mediumsquarely in the public eye.