Animation
THE ART CENTER / Sharing Ideas And Tips From Artist To Artist. AnimeBackgrounds. Character Design References (characterdesigh) sur Pinterest. CATSUKA :: CATSUKA. Collieu.swf (Objet application/x-shockwave-flash) Madame Tutli-Putli - Visionnez la bande annonce. Court métrage d'animation dans lequel Madame Tutli-Putli monte à bord d'un train de nuit, traînant avec elle tous ses biens.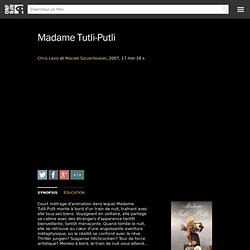 Voyageant en solitaire, elle partage sa cabine avec des étrangers d'apparence tantôt bienveillante, tantôt menaçante. Quand tombe la nuit, elle se retrouve au cœur d'une angoissante aventure métaphysique, où la réalité se confond avec le rêve. Thriller jungien? Satoshi Kon. Paranoia Agent (Mousou Dairinin) : réalisation série TV, 13*25 min Paranoia Agent marque une nouvelle étape dans la carrière de Satoshi Kon, qui délaisse pour un temps les long-métrages pour se consacrer à la réalisation au sein du célèbre studio Madhouse d'une série TV dont le premier épisode a été diffusé le 2 février 2004.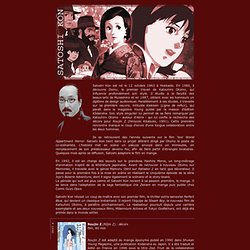 On retrouve Seishi Minakami au scénario, connu notament pour son script angoissant sur Boogiepop Phantom. La musique a été composée par Susumu Hirasawa, artiste vénéré par Satoshi Kon et déjà auteur de la bande-son de Millennium Actress.
3D
STUDIO4℃ GeniusParty. :: KojiMorimoto.net :: - Studio 4°C. Cet espace est destiné a presenter le Studio 4°C, que Koji Morimoto a fondé en 1986 avec Eiko Tanaka et Yoshiharu Sato, et où il a travaillé jusqu'en 2011, avant de fonder son propre studio phy (Φ).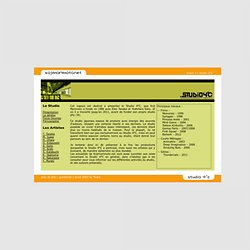 Ce studio japonais essaye de produire avec énergie des oeuvres d'auteurs, laissant une certaine liberté à ces derniers. Le studio possède un vivier d'artistes assez intéressant, ces derniers étant plus ou moins habitués de la maison. Pour la plupart, ils ne travaillent bien sur pas exclusivement au Studio 4°C, mais on peut quand même associer certains noms au studio, étant donné leur parcours au sein de ce dernier. Je tenterai donc ici de présenter à la fois les productions auxquelles le Studio 4°C a participé, mais aussi les artistes qui y évoluent, de manière éphemère ou plus durable.
The Tokyo-based magazine about "Design and Making Things" » Arch. Tekkon Kinkreet (Dir: Michael Arias) ©2006 Taiyo Matsumoto/Shogakukan, Aniplex, Asmik Ace, Beyond C, Dentsu, TOKYO MX, www.TEKKON.NET Cartoonist Taiyo Matsumoto 's Tekkon Kinkreet (English title is Black & White) is a manga masterpiece, which was published serially in the weekly manga magazine Weekly Big Comic Spirits in 1993.
Finally the animation film of Tekkon Kinkreet will be shown in cinemas in Tokyo this December - 7 years after they made their first pilot movie. Resfest Japan is going to have a premium screening of Tekkon Kinkreet on Thursday 23rd this week. PingMag went to talk to Eiko Tanaka from Studio4°C , the woman in charge of this special animation, to find out about what happened behind the scenes and what it takes to transform a famous manga into an animation, that is simply stunning. Utada Hikaru FLUXIMATION " Wonder'Bout" What's New At Acme Filmworks. AFCA - Accueil. AWN | Animation World Network. The Cartoon Museum. Sur les traces d'Emile Cohl. Animation Mentor Advanced Character Animation Program. Brèves. Le groupe "Esthétique, complexité, modélisation et expérimentation" de l'ISC-PIF invite Georges Sifianos le mardi 1 Avril à 18h à donner une conférence intitulée « Le paradigme du Cinéma d'Animation dans le monde complexe de l'Art » à l'Institut des Systèmes Complexes de Paris Ile-de-France 57 Rue Lhomond 75005 Paris Plan d'accès.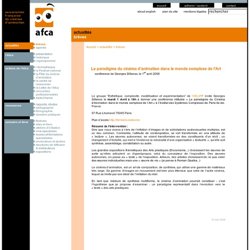 Plasticiens & Animation. DAUMENKINO (The Flip Book Show) A flip book is a book that becomes a cinema for a short space of time; it is a sequence of images that reveals its narrative as you look at it, an object that you have to touch in order to get it to tell its story.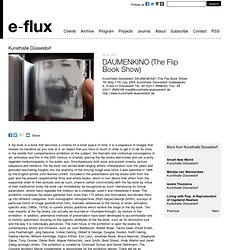 In the worlds first comprehensive exhibition on the subject, the thematic and contextual convergence of art, animation and film in the 20th Century is charted, placing the flip booka well-known and yet scantly regarded mediumsquarely in the public eye. Simultaneously both book and pocket cinema, picture sequence and narrative, the flip book has elicted wide-ranging artistic interpretation over the years and provided fascinating insights into the anatomy of the moving image ever since it was patented in 1868 by the English printer John Barnes Linnett.
---