Ancient Texts
Get flash to fully experience Pearltrees
Welcome to our library Welcome in our occult texts library. It contains 1988 unrevised texts in pdf, doc and other formats.
The V-Library (Veritas Library) is an online collection of e-books by various authorities in the field of metaphysics and the occult. All the e-books are free for use and are public domain resources. "The idea for this came to me when seeing the Bob Hendricks Memorial CM Library on OccultForums and after seeing the Sacred Magick website fall victim to bandwidth strangulation.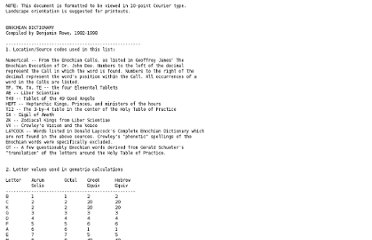 NOTE: This document is formatted to be viewed in 10-point Courier type. Landscape orientation is suggested for printouts. ENOCHIAN DICTIONARY Compiled by Benjamin Rowe, 1982-1998 ----------------------------------------------------- 1. Location/Source codes used in this list: Numerical -- From the Enochian Calls, as listed in Geoffrey James' The Enochian Evocation of Dr. John Dee. Numbers to the left of the decimal represent the Call in which the word is found.
Sacred-Texts Esoteric Index Previous Next The Emerald Tablet of Hermes History of the Tablet History of the Tablet (largely summarised from Needham 1980, & Holmyard 1957)
Necronomicon ex Mortis. The Book of the Dead. Bound in human flesh and inked in blood, this ancient Sumerian text contained bizarre burial rights, funeral incantations, and demon resurrection passages; it was never meant for the world of the living. With these words in the opening sequence of ARMY OF DARKNESS, Ash Williams (Bruce Campbell) described the most famous book of evil of all time.
A Portrait of the Master Therion by Leon Engers Kennedy