Cordwood Buildings
Discussion Forum. This was our summer project..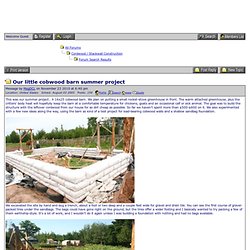 A 16x25 cobwood barn. We plan on putting a small rocket-stove greenhouse in front. The warm attached greenhouse, plus the critters' body heat will hopefully keep the barn at a comfortable temperature for chickens, goats and an occasional calf or sick animal. The goal was to build the structure with the leftover cordwood from our house for as dirt cheap as possible.
Cordwood - Mortar Options (green building forum at permies) Cordwood mortar choices - Greenville Green Building. A previous article, Best wood for cordwood building, discussed how to choose from the types of wood available for cordwood.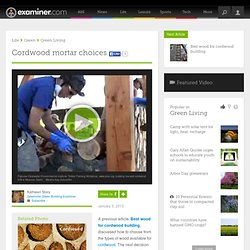 The next decision is what to use as mortar to hold the wood together in the walls. The mortar choice will be different from that used for conventional brick walls since it makes up so much of the wall's content, filling in the spaces between wood pieces, approximately forty percent of the wall surface area. It must be strong enough to stand up to shrinkage and expansion of the wood, and to provide more insulative power. The Romans used something similar to the latest lime putty mortar (LPM), where type S hydrated lime is soaked for a few days, then mixed in with mason's sand, 3 parts sand to 1 part LPM. That Roundhouse. The Beauty of Cordwood Building. A few years ago, we had a "most beautiful chicken coop" contest.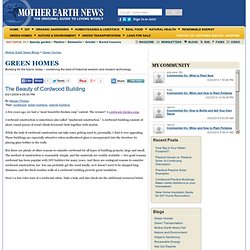 The winner? A cordwood chicken coop. Cordwood construction is sometimes also called "stackwood construction." Earthwood Building School - Cordwood Masonry since 1981. Garbage Warrior [Full Length Documentary] Cordicles. Well, here they are. . .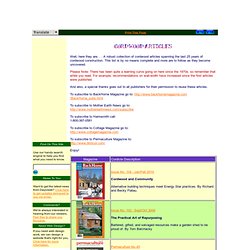 A robust collection of cordwood articles spanning the last 25 years of cordwood construction. This list is by no means complete and more are to follow as they become uncovered. Please Note: There has been quite a learning curve going on here since the 1970s, so remember that while you read. Cordwood Masonry. With the beginning of the true third millennium – Y2K wasn't the real thing – I can't help but reflect on the origins of my favorite building method, cordwood masonry, which anecdotal evidence places at around the year 1,000-the beginning of the 2nd Millennium.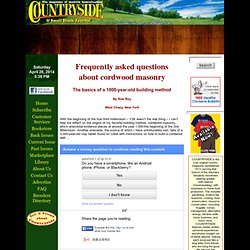 Another anecdote, the source of which I have unfortunately lost, tells of a 3,000-year-old clay tablet found on Crete with instructions on how to build a cordwood wall.... All Things Cordwood. ALL THINGS CORDWOOD No one knows for sure who the first cordwood builders were, but it is speculated that at some point in time, someone figured out they could stay warm and dry in a pile of cordwood that had the gaps between the wood filled with mud or some other material.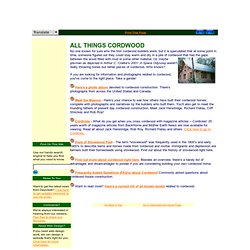 Or, maybe pre-man as depicted in Arthur C. Clarke's 2001: A Space Odyssey weren't really throwing bones but rather pieces of cordwood. Who knows? If you are looking for information and photographs related to cordwood, you've come to the right place. Cordwood Building.
---