Games
Pixelhate. Avoider. Angry Birds Chrome. Play Focus. Check your security settings Connection issues are typically caused by security settings on your network or computer.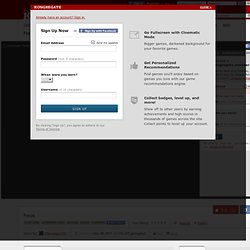 Check that your firewall or router has port 5222 open and allowing traffic. If you are on a school or office network, you may need to contact your network administrator to make the necessary changes. Is your version of Flash current? Gibbets 2 | Gamenert | Only The Best Free Online Games. Games Flash Casual.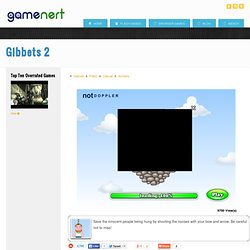 World's Biggest PAC-MAN. Zombie Trailer Park. Crystal Story. Jetpack Jerome. Defense Flash Games. My Pet Protector 2 | Adventure Games. GemCraft | Strategy Games. Description Havoc and corruption swarms through the land, and you are one of those few wizards who can put an end to it.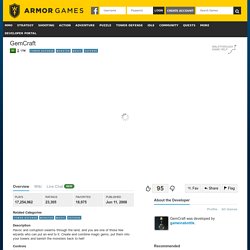 Create and combine magic gems, put them into your towers and banish the monsters back to hell! Controls the basics: click on spell buttons to select them drag gems to move, throw or combine them advanced: 1-6 or B/T/C/M/W/G selects spells hold ctrl to create/combine as much gems as possible hold shift to place multiple towers/trenches hold shift to create multiple gems P to pause click/space/enter to close tutor panels.
Z-Type. GemCraft Labyrinth | Strategy Games. Description Changes in v. 1.3a AG: Premium Edition is renamed to Sorcerer's Package, and it uses the new AG purchase system (old purchases should still work as well).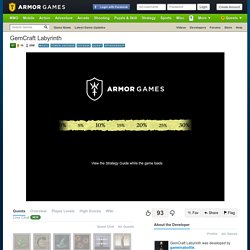 If you can't see your saved games, please make sure you're logged in! After decades of preparation, the test you've been waiting for, the Labyrinth, has finally appeared before you... Born of Fire TD | Tower Defense Games. Born of Fire TD is one tower defense game that you're going to be playing for quite a while.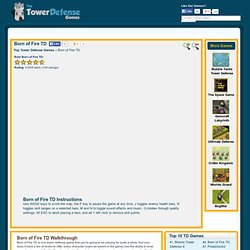 Not only does it have a ton of levels to offer, every character (used as towers in the game) has the ability to level up and gain new skills. You'll end up playing through to see what every character can do, and with a few different difficulty settings, there's always something to come back to with this game. First of all, you're going to want to start by choosing a hero - at the beginning of a normal campaign mode, you'll have 3 available to you, and you can unlock the rest by completing different levels. Place these three heroes across the level, and you're ready to start. Super Mario Bros. Crossover. Kingdom Rush | Strategy Games.
Description The kingdom is under attack!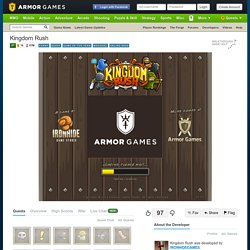 Defend your realm against hordes of orcs, trolls, evil wizards and other nasty fiends; armed with a mighty arsenal of warriors and mages of your own! Doodle God. Multitask. Vimm's Lair: Roms and more. The Vault contains every game ever released in the US for the Nintendo, Super Nintendo, Genesis, Nintendo 64, Game Boy, Game Boy Color, and Game Boy Advance.
Each game has detailed information, screen shots, codes, user submitted ratings and reviews, and more! Nothing beats the feel of a real controller in your hand, so now you can purchase games and consoles here at Vimm's Lair and have them shipped right to your door! Hundreds of used NES and SNES games are currently available, and all proceeds go towards the continued maintenance of Vimm's Lair. Need help? Don't know what to do? Solipskier. Toss the Turtle.
---