Semantic Web
Dipartimento di Elettronica ed informazione. SPARQL Extension Function Survey Summary ? Lost Boy. This post contains the first set of results from my SPARQL extension survey.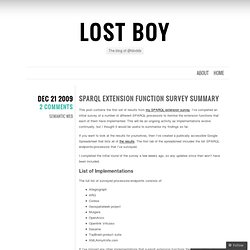 I've completed an initial survey of a number of different SPARQL processors to itemise the extension functions that each of them have implemented. This will be an ongoing activity as implementations evolve continually, but I thought it would be useful to summarise my findings so far. If you want to look at the results for yourselves, then I've created a publically accessible Google Spreadsheet that lists all of the results. The first tab of the spreadsheet includes the list SPARQL endpoints/processors that I've surveyed. Annotator | Open Knowledge Foundation. Open Graph. Wiki.dbpedia.org : About. DBpedia is a crowd-sourced community effort to extract structured information from Wikipedia and make this information available on the Web.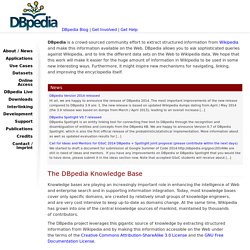 DBpedia allows you to ask sophisticated queries against Wikipedia, and to link the different data sets on the Web to Wikipedia data. We hope that this work will make it easier for the huge amount of information in Wikipedia to be used in some new interesting ways. Sioc-project.org | Semantically-Interlinked Online Communities. Sindice - The semantic web index. Linked Data | Linked Data - Connect Distributed Data across the.
---