Tutorials-Tips
Tutorials | Lightroomers. This is a reprint of my Jan/Feb 2011 feature article in Photoshop User magazine.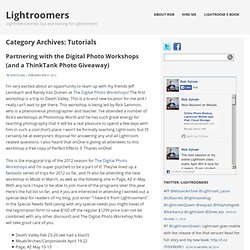 A subscription to Photoshop User magazine is benefit of becoming a member of the National Association of Photoshop Professionals. You can join NAPP and get Scott Kelby's Adobe Photoshop Lightroom 3 Book for Digital Photographers and a Lightroom Killer Tips Preset CD as a signup bonus. There comes giddy a time in every Lightroom user's life when you will purchase a new computer.
I've broken out the components you need to consider to get from old to new with a minimum amount of angst and a maximum amount of control. Lightroom Secrets (Build 20100115144158) Lightroom-Tutorials | Video-Tutorials zu Adobe Photoshop Lightro. Learning Center – Lightroom 3 Beta. Photography Tutorials | Photoshop Tutorials | Lightroom Tutorial. 8 Steps to Crafting Images in Lightroom. A Post By: Helen Bradley Lightroom has more tricks up its sleeve than simple photo fixes such as exposure and contrast.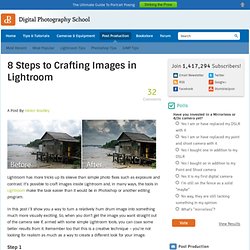 It's possible to craft images inside Lightroom and, in many ways, the tools in Lightroom make the task easier than it would be in Photoshop or another editing program. Helen Bradley - Photoshop and Lightroom tips and techniques (Bui. Stacking images in Lightroom (Build 20100401080539) A Post By: Helen Bradley When you have a lot of similar images from a shoot, you can organizing them using the Lightroom Stacks feature.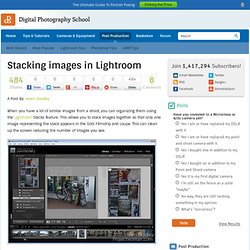 This allows you to stack images together so that only one image representing the stack appears in the Grid, Filmstrip and Loupe. This can clean up the screen reducing the number of images you see. To stack images, in the Library module, select the images to stack, right click and choose Stacking > Group Into Stack. How to Remove Sensor Dust With Lightroom. A Post By: Helen Bradley One of the annoyances most photographers encounter from time to time is sensor dust.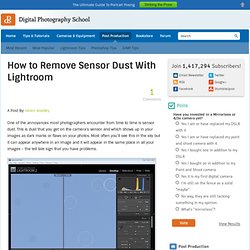 This is dust that you get on the camera's sensor and which shows up in your images as dark marks or flaws on your photos. Most often you'll see this in the sky but it can appear anywhere in an image and it will appear in the same place in all your images – the tell tale sign that you have problems. TheLightroomLab.com | Tips, tricks, tutorials, and more for phot. Lightroom tutorials, tips and training for Lightroomers! (Build.