Tutorials-Tips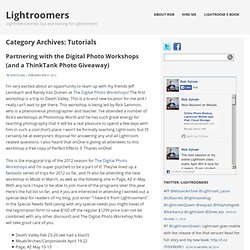 This is a reprint of my Jan/Feb 2011 feature article in Photoshop User magazine. A subscription to Photoshop User magazine is benefit of becoming a member of the National Association of Photoshop Professionals. You can join NAPP and get Scott Kelby's Adobe Photoshop Lightroom 3 Book for Digital Photographers and a Lightroom Killer Tips Preset CD as a signup bonus. There comes giddy a time in every Lightroom user's life when you will purchase a new computer. I've broken out the components you need to consider to get from old to new with a minimum amount of angst and a maximum amount of control.
Tutorials | Lightroomers
I don't think anyone would argue with the statement that Lightroom's Slideshow Module is not very powerful or flexible. The Slideshow Module is great for a quick slideshow. But if you want a professional looking product you will do much more work than you need to using Lightroom alone. If you are a full Creative Cloud member then I have good news! You have access to After Effects.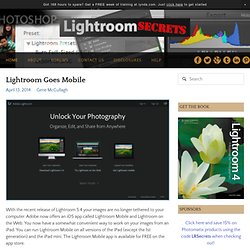 Lightroom-Tutorials | Video-Tutorials zu Adobe Photoshop Lightro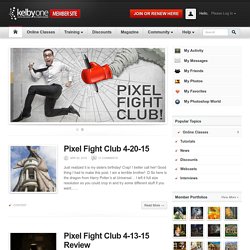 Image of the week: 4-18-14 Well it was a quick turnaround this week due to Photoshop World, but there were some really lovely images that made it into folks portfolios this week, and yes I do realize that I am a little portrait heavy today, but these are the ones that grabbed my eye. Also in the spirit of pushing… Read More → Photoshop Challenge: 4-14-14
Photography Tutorials | Photoshop Tutorials | Lightroom Tutorial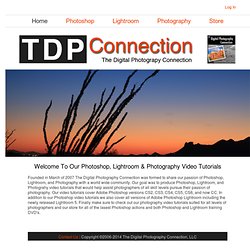 Founded in March of 2007 The Digital Photography Connection was formed to share our passion of Photoshop, Lightroom, and Photography with a world wide community. Our goal was to produce Photoshop, Lightroom, and Photograhy video tutorials that would help assist photographers of all skill levels pursue their passion of photography. Our video tutorials cover Adobe Photoshop versions CS2, CS3, CS4, CS5, CS6, and now CC.
A Post By: Helen Bradley Lightroom has more tricks up its sleeve than simple photo fixes such as exposure and contrast. It's possible to craft images inside Lightroom and, in many ways, the tools in Lightroom make the task easier than it would be in Photoshop or another editing program.
8 Steps to Crafting Images in Lightroom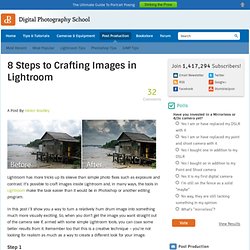 Helen Bradley - Photoshop and Lightroom tips and techniques (Bui
A Post By: Helen Bradley When you have a lot of similar images from a shoot, you can organizing them using the Lightroom Stacks feature. This allows you to stack images together so that only one image representing the stack appears in the Grid, Filmstrip and Loupe. This can clean up the screen reducing the number of images you see. To stack images, in the Library module, select the images to stack, right click and choose Stacking > Group Into Stack.
Stacking images in Lightroom (Build 20100401080539)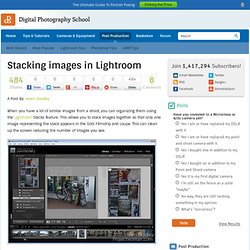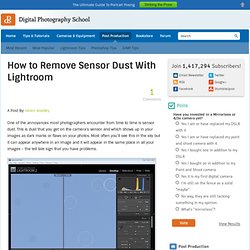 How to Remove Sensor Dust With Lightroom
A Post By: Helen Bradley One of the annoyances most photographers encounter from time to time is sensor dust. This is dust that you get on the camera's sensor and which shows up in your images as dark marks or flaws on your photos. Most often you'll see this in the sky but it can appear anywhere in an image and it will appear in the same place in all your images – the tell tale sign that you have problems.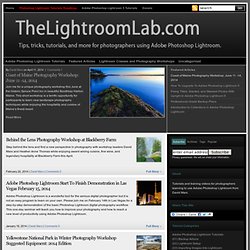 By David Marx on November 18, 2010 | Comments 16 The Collections feature in Adobe Photoshop Lightroom really shines when you need to pull together a group of images for a specific project. What most Lightroom users usually miss though is that clicking and dragging is not the most efficient way to add images into your current project. In this video tutorial, I demonstrate how to use Collections, and the Set as Target Collection option, to quickly gather up my favorite images for my portfolio.
I'm very excited to have the opportunity to conduct a free webinar aimed at helping new Lightroom users learn how to get started on the right foot, avoid common pitfalls, and become more efficient with Lightroom; my absolute favorite photo workflow tool. We've only got about 100 seats left open, so head on over to register now. The webinar is going to be streamed live on Tuesday, October 8th, 10-11 a.m.