Tutorials-Tips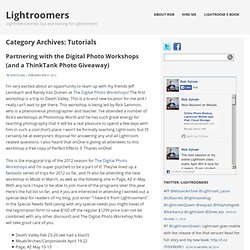 This is a reprint of my Jan/Feb 2011 feature article in Photoshop User magazine. A subscription to Photoshop User magazine is benefit of becoming a member of the National Association of Photoshop Professionals. You can join NAPP and get Scott Kelby's Adobe Photoshop Lightroom 3 Book for Digital Photographers and a Lightroom Killer Tips Preset CD as a signup bonus. There comes giddy a time in every Lightroom user's life when you will purchase a new computer. I've broken out the components you need to consider to get from old to new with a minimum amount of angst and a maximum amount of control.
Tutorials | Lightroomers
As one year ends and another begins, we often think about learning new skills or revisiting and improving on existing skills. HDR (High Dynamic Range) photography is a fascinating area to explore. When the software first started to give us a way to extend the dynamic range in our images we saw HDR everywhere. Most of it was surreal and, honestly, not very good. But that's often the case as new techniques are discovered and played with.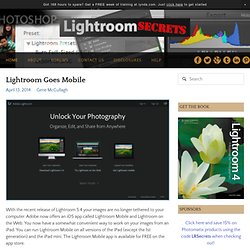 Lightroom-Tutorials | Video-Tutorials zu Adobe Photoshop Lightro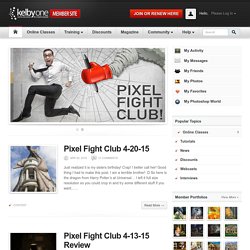 Learning about Typography part 4 Typography is such a big part of design, and yet it can be daunting and scary and passed over by us as designers because we just are not really aware of the rules and what to do. Cameron Chapman has done a series of wonderful articles that I came across that I wanted to share the links with you so that you and I can become better type practitioners. So make sure you go over to Noupe.com and check out this final article in the series and then maybe follow some of the links that Cameron has provided to learn even more. http://www.noupe.com/design/a-crash-course-in-typography-pulling-it-all-together.html
Photography Tutorials | Photoshop Tutorials | Lightroom Tutorial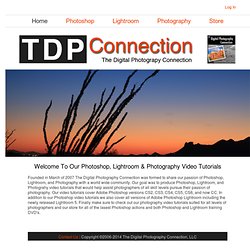 Founded in March of 2007 The Digital Photography Connection was formed to share our passion of Photoshop, Lightroom, and Photography with a world wide community. Our goal was to produce Photoshop, Lightroom, and Photograhy video tutorials that would help assist photographers of all skill levels pursue their passion of photography. Our video tutorials cover Adobe Photoshop versions CS2, CS3, CS4, CS5, CS6, and now CC.
A Post By: Helen Bradley Lightroom has more tricks up its sleeve than simple photo fixes such as exposure and contrast. It's possible to craft images inside Lightroom and, in many ways, the tools in Lightroom make the task easier than it would be in Photoshop or another editing program.
8 Steps to Crafting Images in Lightroom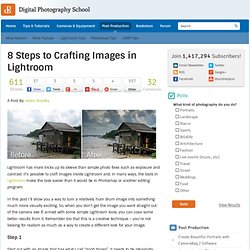 Helen Bradley - Photoshop and Lightroom tips and techniques (Bui
A Post By: Helen Bradley When you have a lot of similar images from a shoot, you can organizing them using the Lightroom Stacks feature. This allows you to stack images together so that only one image representing the stack appears in the Grid, Filmstrip and Loupe. This can clean up the screen reducing the number of images you see. To stack images, in the Library module, select the images to stack, right click and choose Stacking > Group Into Stack.
Stacking images in Lightroom (Build 20100401080539)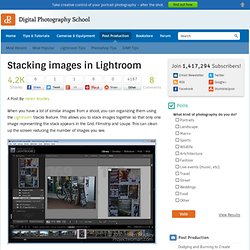 How to Remove Sensor Dust With Lightroom
I'm very excited to have the opportunity to conduct a free webinar aimed at helping new Lightroom users learn how to get started on the right foot, avoid common pitfalls, and become more efficient with Lightroom; my absolute favorite photo workflow tool. We've only got about 100 seats left open, so head on over to register now. The webinar is going to be streamed live on Tuesday, October 8th, 10-11 a.m.
Lightroom tutorials, tips and training for Lightroomers! (Build