Disability News
Robotics help the paralyzed walk (video)
disability news - Google News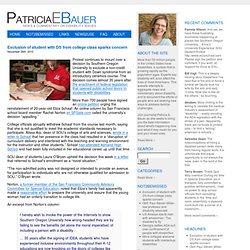 Disability News | PatriciaEBauer.com
Protest continues to mount over a decision by Southern Oregon University to exclude a non-credit student with Down syndrome from an introductory ceramics course. The decision comes almost 35 years after the enactment of federal legislation that opened public school doors to students with disabilities. More than 700 people have signed an online petition urging the reinstatement of 20-year-old Eliza Schaaf.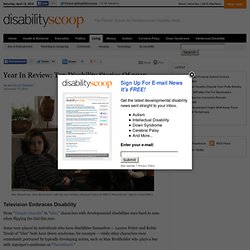 Max Braverman (Max Burkholder) with his mom Kristina (Monica Potter) on NBC's "Parenthood." (Byron Cohen/NBC) Television Embraces Disability From "Temple Grandin" to "Glee," characters with developmental disabilities were hard to miss when flipping the dial this year. Some were played by individuals who have disabilities themselves — Lauren Potter and Robin Trocki of "Glee" both have Down syndrome, for example — while other characters were remarkably portrayed by typically developing actors, such as Max Burkholder who plays a boy with Asperger's syndrome on "Parenthood." The presence of characters with disabilities didn't go without notice.
Year In Review: Top Disability Stories Of 2010
New Medicaid Waiver Rules Set To Take Effect In a long-awaited move, federal officials are clarifying what counts as home and community-based services for people with disabilities. Job Market Rocky For Those With Disabilities The unemployment rate for Americans with disabilities declined as 2013 came to a close, the government said Friday, but largely because many people stopped looking for work. Feds Call On Schools To Address Discipline Disparities The Obama administration is issuing new guidance to schools in an effort to reduce the number of minorities and kids with disabilities who needlessly wind up in the hands of law enforcement.
Disability Scoop - Developmental Disability News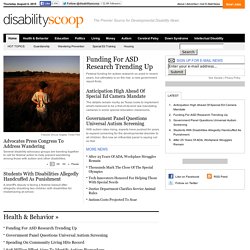 "Disability will affect the lives of everyone at some point in their life, it is time society changed to acknowledge this" About 1 in 5 people in America currently has a disability and according to the U.S. Social Security Administration, 33% of 20-year-old workers will become disabled before reaching retirement age. Some people are born with a disability, others become disabled as a result of an illness or injury, and some people develop them as they age. Almost all of us will have a disability at some point in our lives.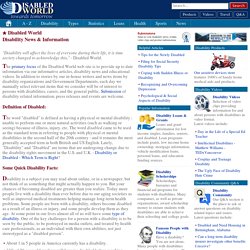 Health and Disability News and Information - Disabled World
3 Mobile Healthcare Apps that Leverage the Cloud - ReadWriteCloud
The mobile healthcare market is finally starting to show significant growth. The number of apps has increased more than 150% on Android and 140% on the Blackberry in the past year. According to Mobile Health News, more than 4,200 healthcare apps are on the Apple platform and Android users have access to about 500.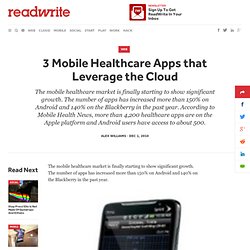 Adoption of smartphones in the US only hovers around 20 percent. Most people today do not have smartphones. In turn, most people do not have access to health related apps created for smartphones. Few, however, would disagree that smartphones will likely prove to be a key platform for mobile health innovation. We are tracking these platforms closely. MobiHealthNews has written extensively about Pew's recent survey on the adoption rate of mobile health apps.
Number of smartphone health apps up 78 percent