Disability News
Robotics help the paralyzed walk (video) Disability news - Google News. Disability News | PatriciaEBauer.com. Year In Review: Top Disability Stories Of 2010. Max Braverman (Max Burkholder) with his mom Kristina (Monica Potter) on NBC's "Parenthood.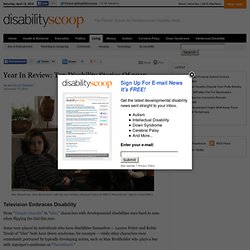 " (Byron Cohen/NBC) Television Embraces Disability From "Temple Grandin" to "Glee," characters with developmental disabilities were hard to miss when flipping the dial this year. Some were played by individuals who have disabilities themselves — Lauren Potter and Robin Trocki of "Glee" both have Down syndrome, for example — while other characters were remarkably portrayed by typically developing actors, such as Max Burkholder who plays a boy with Asperger's syndrome on "Parenthood." The presence of characters with disabilities didn't go without notice. Disability Scoop - Developmental Disability News. Health and Disability News and Information - Disabled World. 3 Mobile Healthcare Apps that Leverage the Cloud - ReadWriteCloud. The mobile healthcare market is finally starting to show significant growth.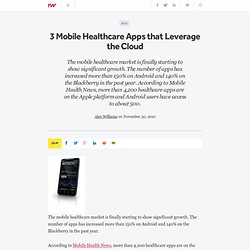 The number of apps has increased more than 150% on Android and 140% on the Blackberry in the past year. According to Mobile Health News, more than 4,200 healthcare apps are on the Apple platform and Android users have access to about 500. By 2015, more than 500,000 people are expected to be using healthcare smartphone applications. Apps that leverage a cloud infrastructure are just emerging. Number of smartphone health apps up 78 percent. Adoption of smartphones in the US only hovers around 20 percent.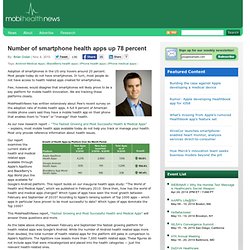 Most people today do not have smartphones. In turn, most people do not have access to health related apps created for smartphones. Few, however, would disagree that smartphones will likely prove to be a key platform for mobile health innovation. We are tracking these platforms closely. MobiHealthNews has written extensively about Pew's recent survey on the adoption rate of mobile health apps.
---