Ipad tips
Be an iPad Superstar: 8 Collections of iOS 5 Tips. Just when I think I know a lot of about Apple's iOS, someone shows me a clever feature, setting, or shortcut I've never seen before.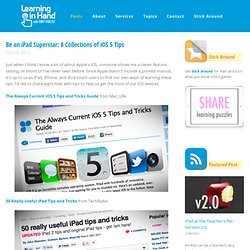 Since Apple doesn't include a printed manual, it's up to us as iPad, iPhone, and iPod touch users to find our own ways of learning these tips. I'd like to share eight links with tips to help us get the most of our iOS devices. 40+ Super Secret iPad Features and Shortcuts. We all want to get the very best out of our devices!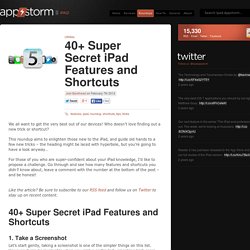 Who doesn't love finding out a new trick or shortcut? This roundup aims to enlighten those new to the iPad, and guide old hands to a few new tricks – the heading might be laced with hyperbole, but you're going to have a look anyway… For those of you who are super-confident about your iPad knowledge, I'd like to propose a challenge. Teaching Large Classes with an iPad »
To this day I remain a big fan of the overhead projector.
I truly believe it was more effective a tool for teaching than the projected Powerpoint slides will ever be. I stood facing the students, watching their expressions, which I could see since the lights were sufficiently bright. I could draw on the screen and change directions as questions arose. In fact I will argue that the 'golden age of college teaching' if there was one was stimulated by the addition of the roller to the overhead projector.
15 Ways To Use The New iPad In Classrooms. iPad Multimedia Tools. iPad Tips And Tricks | 100 Essential. 100 Essential iPad Tips and Tricks. Change the way the default apps and the operating system behave, to make them suit your particular needs.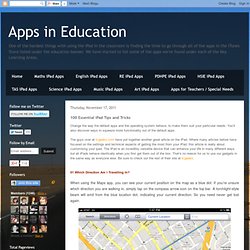 You'll also discover ways to squeeze more functionality out of the default apps. The guys over at tcgeeks.com have put together another great article on the iPad. Where many articles before have focused on the settings and technical aspects of getting the most from your iPad, this article is really about customising your ipad. 10 extremely awesome iPad tips and tricks | 11 of 11. The Ultimate Guide To Using iPads In The Classroom. How Students Benefit From Using Social Media 14.60K Views 0 Likes A lot of criticism has been leveled at social media and the effect it has on the way students process and retain information, as well as how distracting it can be.
However, social media offers plenty of opportunities for learning and interactivity, and if you take a moment to think about it, it's not too hard to see how students benefit from using social media. Getting The Most Out Of Your iPad's Keyboard.
---