Webdesign
Free Icons For E-Commerce Websites. Most e-commerce websites use icons to direct their visitors for an easy shopping procedure.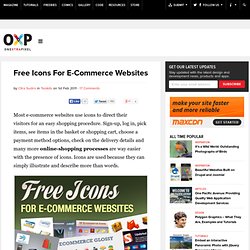 Sign-up, log in, pick items, see items in the basket or shopping cart, choose a payment method options, check on the delivery details and many more online-shopping processes are way easier with the presence of icons. Icons are used because they can simply illustrate and describe more than words. Today we have collected some of the best icon sets for our readers. House of Buttons. 20+ HTML Landing page templates for your business. Spark – The Perfect Landing Page.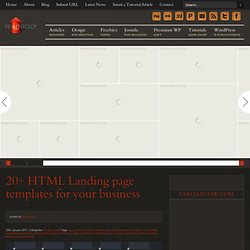 Is a good solution because it distills what is great about your product by giving customers a bird's-eye view of the features and benefits they are getting. TheLanding Landing Page. Is a simple landing page with half or full header video options! 978 Grid System for Web Design. The Elements of Retro Web Design. The vintage and retro style is becoming more and more popular in today's digital artwork.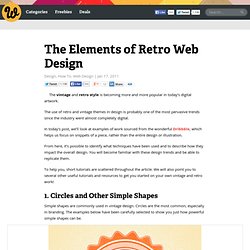 The use of retro and vintage themes in design is probably one of the most pervasive trends since the industry went almost completely digital. In today's post, we'll look at examples of work sourced from the wonderful Dribbble, which helps us focus on snippets of a piece, rather than the entire design or illustration. From here, it's possible to identify what techniques have been used and to describe how they impact the overall design.
You will become familiar with these design trends and be able to replicate them. To help you, short tutorials are scattered throughout the article. IconSweets 2 - 400+ icones pour applications iPhone, iPad et Android. IconSweets 2 est un pack de plus de 400 icones en formes photoshop vectorisées, idéal pour les applications mobiles natives sous iPhone, iPad ou Android.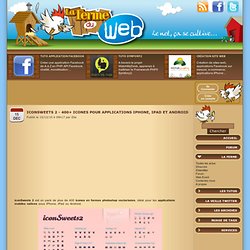 Dans le monde des interfaces mobiles natives, l'utilisation d'icones en "vector shape" peut s'avérer pratique, voire indispensable. iconSweets2 est un pack comprenant plus de 400 icones de ce type, toutes uniques et déclinées dans plusieurs tailles: 16 * 16px32 * 32pxet 64 * 64px. PSD Website Templates: Free High Quality Designs.
In the past I have written many articles showcasing web design for inspirational purposes.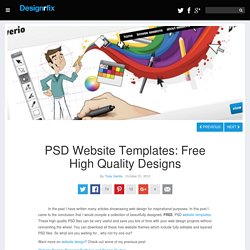 In this post I came to the conclusion that I would compile a collection of beautifully designed, FREE, PSD website templates. These high quality PSD files can be very useful and save you lots of time with your web design projects without reinventing the wheel. You can download all these free website themes which include fully editable and layered PSD files. The Ultimate Roundup of 45 Awesome Bokeh Textures. Les packs d'icones gratuites d'Aout 2010. Fidèle au poste comme tous les mois, voici ma sélection d'icones gratuites que j'ai collecté pendant le mois d'Aout 2010.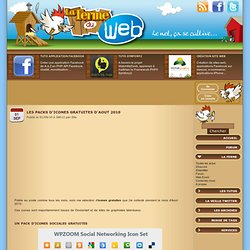 Ces icones sont majoritairement issues de Deviantart et de sites de graphistes talentueux. Un pack d'icones sociales gratuites 500 icones déclinées en 64×64, 48×48, 32×32, 24×24 et 16×16px. Free Wireframing Kits, UI Design Kits, PDFs and Resources - Smashing Magazine.
Advertisement To mock-up the user interface of a website, software or any other product, you'll need some basic UI elements.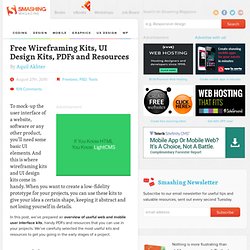 And this is where wireframing kits and UI design kits come in handy. When you want to create a low-fidelity prototype for your projects, you can use these kits to give your idea a certain shape, keeping it abstract and not losing yourself in details. Les icones gratuites du mois de septembre 2010. Sans plus attendre, voici ma sélection d'icones gratuites pour le mois de septembre 2010.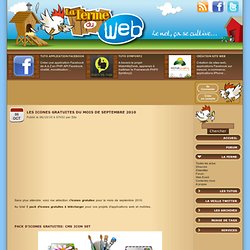 Au total 8 pack d'icones gratuites à télécharger pour vos projets d'applications web et mobiles. Pack d'icones gratuites: CMS icon set. 30 New Free High-Quality Fonts - Smashing Magazine. Advertisement Every now and then we look around, select fresh high-quality free fonts and present them to you in a brief overview.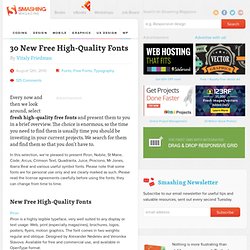 The choice is enormous, so the time you need to find them is usually time you should be investing in your current projects. We search for them and find them so that you don't have to. In this selection, we're pleased to present Piron, Nobile, St Marie, Code, Arcus, Crimson Text, Quadranta, Juice, Prociono, Mr Jones, Ibarra Real and various useful symbol fonts. Please note that some fonts are for personal use only and are clearly marked as such. Comment se mettre en Administrateur sous Windows 7. Bonjour, Ci-après la méthode pour activer le compte "Super-Administrateur" caché sous Windows 7 RC : ATTENTION !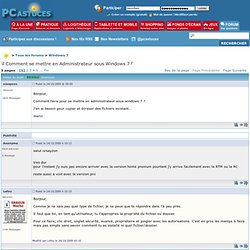 Activer ce compte peut affecter la sécurité du système puisque toutes les actions sont autorisées. Il est conseillé de ne l'utiliser qu'en cas de réel besoin et de le protéger par un mot de passe. Les packs d'icones gratuites du mois de juillet 2010. Comme tous les mois, je vous ai sélectionné les meilleurs packs d'icones gratuites du mois de juillet 2010. La plupart des icones sont issues du très bon portail communautaire DeviantArt Un pack d'icones gratuites au style Manga Laboratory Laboratory est un pack de 30 icones gratuites au style très Manga Télécharger les icones. Free Full Layered Facebook GUI PSD Kit - Smashing Magazine. Advertisement In this post we release a free Facebook GUI PSD Kit, designed by SurgeWorks1 and released for Smashing Magazine and its readers.
The main idea behind the kit is to speed up the prototyping of Facebook application UIs and Facebook fan pages, thus sparing you from drawing all the comps and letting you customize all the texts, buttons and data as you need. As usual, the kit is free to use in all projects, without any restrictions. The kit brings the Facebook vector icon and logo.
iPad Wireframe .EPS | Sarah Parmenter, a web and UI designer. To celebrate the launch of the iPad, and undoubtedly another fantastic platform to design for, I have designed an iPad Wireframe to help you with the design process for yourself and/or your clients. When I started doing iPhone UI, I created my own basic wireframe to help with the planning process for the apps I was working on, I found it better to show clients a stripped back version, no colours, no flourishes, just purely focusing on the UI of their app. I knew I'd need the same for iPad, so I'm happy to share my iPad Wireframe with you too. It's in one neat .eps file. Download the EPS file. 500 Free Icons: WPZOOM Social Networking Icon Set. When I first stumbled across David Ferreira's portfolio on ThemeForest, I couldn't resist buying his Vcard Template, even though I didn't plan on using it, but after I saw the amazing icons he designed for this template, first thing that came to my mind was to contact David regarding a collaboration with WPZOOM.
WPZOOM Social Networking Icon Set: 500 free icons! As you can see, we had a productive collaboration which resulted with an awesome icon set that includes 100 icons of popular social networking websites. Every icon from WPZOOM Social Networking Icon Set is available in 5 different sizes: 64×64, 48×48, 32×32, 24×24 and 16×16px (PNG & PSD format).
This means you get 500 beautiful icons! Download WPZOOM Social Networking Icon Set100 icons × 5 sizes: 64×64, 48×48, 32×32, 24×24 and 16×16pxPNG and PSD format. gCons: Free All-Purpose Icons for Designers and Developers (100 icons PSD) - Smashing Magazine. Advertisement Today we are glad to release gCons, a set of free all-purpose 32×32px icons for designers and web developers (100 icons). The icons come in 12 different colors and are available in PSD, PNG, JPG and GIF formats. 100+ Seamless Patterns Great for Creating Website Backgrounds | 18 Beautiful and High Quality Fonts for Your Designs | Web Desig. Free Icon Search Engine - FindIcons.com (286,904 free icons in 2.
40 Absolutely Free Vector Pack Collections. 30+ Handy Blank Templates for Designers. Design Trends (Predictions) in 2010. Free PNG Credit Card, Debit Card and Payment Icons Set (18 Icons) - Smashing Magazine.
Complex Repeating Patterns Part I. Vector Social Media Icons. Applying Mathematics To Web Design - Smashing Magazine. Designing Without Gradients | Build Internet! My fonts - Online Font Converter. 60+ Essential Web Apps for Freelancer Web Designers | Tools | in. Les packs d'icones gratuites du mois d'Avril. 5 Advanced Photoshop Techniques for Web Designers | Carsonified. Webstuffshare.com - Worth Sharing Bookmarked Webstuff.
20 Fresh High Quality Free Fonts - Smashing Magazine. Web Design Trends for 2010. 4 rules for displaying error messages from a user experience perspective – Humanising Technology. Les packs d'icones gratuites du mois de mai. 25 Beautiful and Free Thin Fonts. 25+ Examples of Best Single page websites. 50+ icônes et logo Twitter, boutons gratuits (Twitter buttons)
50 Powerful Time-Savers For Web Designers - Smashing Magazine. Les packs d'icones gratuites du mois de juin 2010 - La Ferme du. 55 Examples of Beautifully Integrated Social Media Links in Web.
---