Blogs
ArchDaily | Broadcasting Architecture Worldwide. Architecture for Humanity. Open Architecture Network | A community of designers and builders collaborating to improve living conditions and sustainability. Top 100 Architecture Blogs | International Listings Blog. Posted in Features on October 17, 2007 If Modernism was the twentieth-century architectural trend that developed a new way of thinking, then Urbanism appears to be the twenty-first century architectural mindset.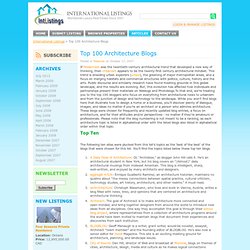 This trend is breeding urban explorers (urbex), the greening of major metropolitan areas, and a focus on merging habitats and commercial structures with politics, culture, history and the arts. Public discourse and scholarly research have found meeting grounds in this global landscape, and the results are evolving. But, this evolution has affected how individuals and partnerships present their materials on Weblogs and Photoblogs.To that end, we're treating you to the top 100 bloggers who focus on everything from architectural news to urbanism and from the junction of design and technology to the landscape.
BLDGBLOG. Archinomy. Architecture | Home. Architect Magazine: Architectural Design | Architect Online: A premier site for Architecture Industry News & Building Resources.
---