Hello the House
Natural Antibacterials: Get Triclosan and Other Nasty Chemicals Out of Your Home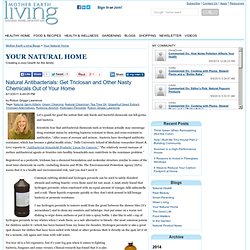 Let's quash for good the notion that only harsh and harmful chemicals can kill germs and bacteria. Scientists fear that antibacterial chemicals such as triclosan actually may encourage drug-resistant stains by selecting bacteria resistant to them and cross-resistant to antibiotics. "After years of overuse and misuse…bacteria have developed antibiotic resistance, which has become a global health crisis," Tufts University School of Medicine researcher Stuart B.
Sign In Sign Up Your Account Preferences Purchases Rebates
How-To Projects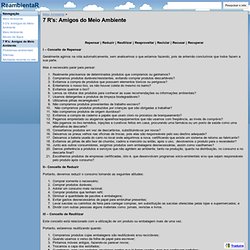 Repensar | Reduzir | Reutilizar | Reaproveitar | Reciclar | Recusar | Recuperar I – Conceito de Repensar Geralmente agimos na vida automaticamente, sem analisarmos o que estamos fazendo, pois de antemão concluímos que todos fazem a sua parte. Mas é necessário parar para pensar: Realmente precisamos de determinados produtos que compramos ou ganhamos? Compramos produtos duráveis/resistentes, evitando comprar produtos descartáveis?
7 R's: Amigos do Meio Ambiente - ReambientaR
Home decorating, interior design ideas, garden design - Homes & Gardens magazine