Histoire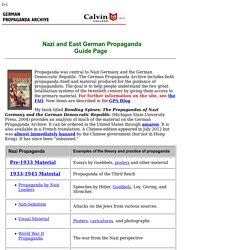 Nazi and East German Propaganda Guide Page
Un article de Wikipédia, l'encyclopédie libre. Adolf Hitler ( prononcé en allemand [ ˈ a . d ɔ l f ˈ h ɪ t . l ɐ ] Écouter ), né le 20 avril 1889 à Braunau am Inn en Autriche (alors en Autriche-Hongrie ) et mort par suicide le 30 avril 1945 à Berlin , est un dirigeant allemand , fondateur et figure centrale du nazisme , instaurateur de la dictature totalitaire désignée sous le nom de Troisième Reich (1933-1945).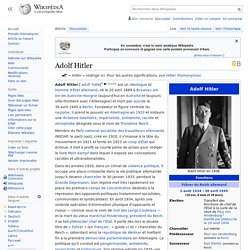 Adolf Hitler
Hitler: Table of Contents | Timeline of Events | Was He Jewish? Adolf Hitler (1889-1945) was the founder and leader of the Nazi Party and the most influential voice in the organization, implementation and execution of the Holocaust, the systematic extermination and ethnic cleansing of six million European Jews and millions of other non-aryans.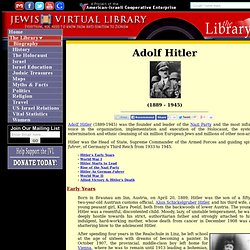 Nazism , or National Socialism ( German : Nationalsozialismus ) in full, was the ideology of the Nazi Party in Germany and related movements outside Germany. [ 1 ] [ 2 ] [ 3 ] [ 4 ] [ 5 ] It is a variety of fascism that incorporates biological racism and antisemitism . [ 6 ] Nazism developed in Germany from the influence of the far-right racist Völkisch German nationalist movement and the anti-communist Freikorps paramilitary culture which fought against the communists in post- World War I Germany. [ 7 ] The German Nazi Party and its affiliates in Germanic states supported pan-Germanicism . [ 8 ] It was designed to draw workers away from communism and into völkisch nationalism. [ 9 ] Major elements of Nazism have been described as far-right , such as allowing domination of society by people deemed racially superior, while purging society of people declared inferior, who were said to be a threat to national survival. [ 10 ]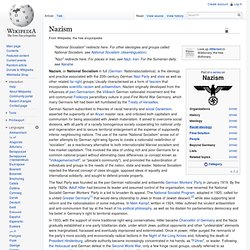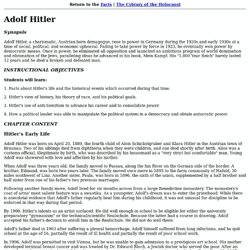 Adolf Hitler, a charismatic, Austrian-born demagogue, rose to power in Germany during the 1920s and early 1930s at a time of social, political, and economic upheaval. Failing to take power by force in 1923, he eventually won power by democratic means. Once in power, he eliminated all opposition and launched an ambitious program of world domination and elimination of the Jews, paralleling ideas he advanced in his book, Mein Kampf.
Adolf Hitler
Hitler
Adolf Hitler Biography | Links | Return to Dictators Index Biography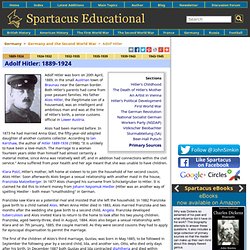 v Primary Sources v
Adolf Hitler ( German: [ˈadɔlf ˈhɪtlɐ] (