Aquaponic
hydroponic farm.
Hydroponics gardening is easy, once you learn the basics and have spent a little time fine tuning a system that works. Fact is, much of the work is in learning all the basic info, setting up, and adjusting your first system. These pages will help you do just that. Hydroponics gardening boils down to simply this: The food is in the water. All considerations when designing a system will focus on this and on the types of plants you are growing. This includes…
Hydroponics Gardening Made Easy – Led Grow Light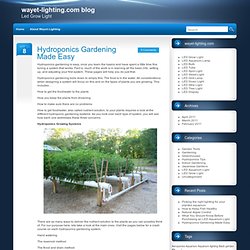 Hydroponics diy
DIY Hydroponics - Hydroponics Made Easy So You Can Do It Yourself
blog diy Hydroponics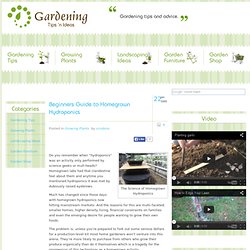 The Science of Homegrown Hydroponics Do you remember when "hydroponics" was an activity only performed by science geeks or mull-heads? Homegrown labs had that clandestine feel about them and anytime you mentioned hydroponics it was met by dubiously raised eyebrows. Much has changed since those days with homegrown hydroponics now hitting mainstream markets. And the reasons for this are multi-faceted; smaller homes, higher density living, financial constraints on families and even the emerging desire for people wanting to grow their own foods. The problem is, unless you're prepared to fork out some serious dollars for a production-level kit most home gardeners won't venture into this arena.
Beginners Guide to Homegrown Hydroponics | Gardening Tips 'n Ideas
Basic Things to Know about Hydroponics | Hydroponics Gardening
Vermiponic Garden
UW grad student's hydroponic tower system grows lots of veggies
For just a few dollars, you could be growing all the salad you need in time for your first summer BBQ! Keith Roberto, author of " How-To Hydroponics ," shows us how. My first encounter with a commercially-available hydroponic system was a garden professionally manufactured from 6 inch PVC pipe. Since then, I've experimented with several variations on that design, in search of less expensive ways to get started in hydroponics. Shown here growing broccoli on the right and several varieties of leafy greens in the remaining three chambers. This system is extremely versatile and very popular with commercial growers looking to produce large harvests from small spaces both indoors and out.
Urban Garden Magazine | Build it Yourself: The PVC Pipe Hydro Garden
hydroponics simplified the urban farmer urban farmer june
Pure polyvinyl chloride without any plasticizer Hydroponic
Build a Homemade Hydroponics System
Ce que vous devriez soutenir durant votre vie : c'est l'hydroponie.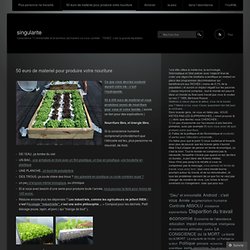 50 euro de materiel pour produire votre nouriture | singularite
Hydroponics Tuesday
The various articles contained within Hydroponics Tuesday have been compiled using our own real-life experiences. We're not botanists, just amateurs with a love of gardening. If you have any questions or concerns about any of the articles you read, make sure to comment on them (you can comment at the end of any article). Don't be surprised if you've seen some of these topics discussed in the weekly journal previously, in many cases, the articles have been built from our previous research.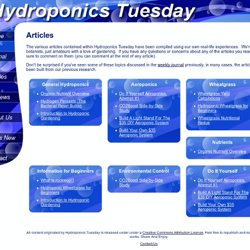 Aeroponics System
vertical hydroponic growing
vertical hydroponic farm
ecofilms au make your own aquaponics strawberry tower
ecofilms au make your own aquaponics strawberry tower
Strawberry planters are available at nurseries and by mailorder, but by building your own, you'll save money and have a high-quality container that's custom-made for your garden space. Planting strawberries in planters tames their slightly invasive nature and simplifies maintenance tasks. CC flickr photo courtesy of nicmcc Planters are available in a variety of designs, from simple boxes and raised beds, to upright pyramid shapes. Visit the following websites for information on how to build your own strawberry planter at home. In no time, you'll enjoy luscious, pesticide-free strawberries from your own backyard.
How to Build a Strawberry Planter: Tips and Plans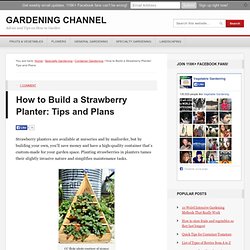 Vertical Gardening Made Easy - Home Made Hydroponics | Home Made Hydroponics
Urban Garden Magazine | Back Issues
You are here: Home » Back Issues Groundbreaking Don't miss this groundbreaking latest edition of Urban Garden Magazine! Vertical growing, water culture, seeds, aquaponics, predator mites, neem oil, electrical safety and how to spot the early signs of over-fertilization. It's all in here!
gardening system
juin 2008
Comme énoncé précédemment mon intention est de pouvoir monitorer notre unité ultraponic et de tout centraliser sur un petit PC. Le cahier des charges est le suivant: Gestion de la lumière (programmation allumage/extinction) Gestion de des ventilateurs climatiques (programmation allumage/extinction) Gestion de la Foggy Box (programmation allumage/extinction) Capteur de Température et d'hygrométrie coté feuilles Capteur de Température et d'hygrométrie coté racines (x2 puisque deux bacs de culture) Capteur de luminosité "Luxmetre" Capteur de PH dans la solution Capteur EC dans la solution Capteur de Température dans la solution Interface de gestion Indicateurs Possibilité d'enregistrer un journal de culture avec les paramètre afin de reproduire ou de partager. L'ensemble sera piloté par un micro PC à base de carte mini-itx parce que j'en ai une de dispo mais ça pourra aussi tourner sur autre chose.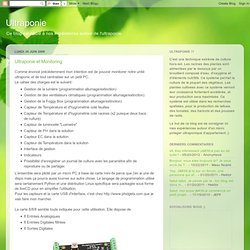 Il existe différents type de support de culture pour vos plantes:(terreau, coco, billes d'argile, laine de roche). -Le plus courant est le terreau, il doit être enrichie en azote, phosphore et potassium (NPK), ont les trouve dans beaucoup de jardineries. Certains terreau sont de plus ou moins bonne qualité. il est préférable de commencer avec un terreau professionnel dans les boutiques spécialisés en ligne ou les commerces spécialisés. -Comme autre support de culture la fibre de coco: Entièrement neutre ou enrichie elle a un pouvoir de drainage impressionnant mais impose des arrosages régulés et contrôlé (ec, ph), le sur-arrosage est impossible, elle peut être utilisé en passif comme de la terre ou en actif avec un système hydroponique et des cycles d'arrosage programmés. -Les billes d'argiles: beaucoup utilisées dans les systèmes hydroponique, elles sont idéales comme support de culture.
Guide de culture plantes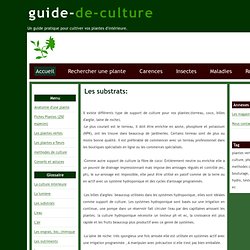 GE and Houweling's Tomatoes Unveil First Greenhouse Combined Heat and Power Project in US
News Release – CAMARILLO, CALIF.—August 22, 2012—GE (NYSE: GE) and its customer Houweling's Tomatoes, a leading North American greenhouse grower, today unveiled the first combined heat and power (CHP) greenhouse project in America that captures carbon dioxide (CO 2 ) for use in plant fertilization. Using two of GE's 4.36-megawatt (MW), ecomagination-qualified Jenbacher J624 two-staged turbocharged natural gas engines and a GE-designed CO 2 fertilization system, the plant provides heat, power and CO 2 to Houweling's 125-acre tomato greenhouse in Camarillo, Calif. Interior of one of Houweling's Tomatoes sprawling high-tech and sustainable greenhouses in Camarillo, CA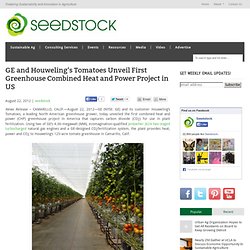 Bioponica
custom-made one chamber aquaponic
filet d'ombrage
Tuyaux, plomberie, sans colle ?
Il me semble que, oui, le PE et un des meilleurs choix. PEHD est simple, facile à recycler (numéro 2), pas dangereux, et on peut fabriquer beaucoup de choses avec ça. Y inclus des tuyaux et raccords presque identique à ceux en PVC, même si on le voit pas souvent. Je pense que PP est dans la même catégorie au niveau de la santé, mais c'est plus difficile à recycler (numéro 5). Voilà un article en anglais qui présente l'avis de Greenpeace sur les différents plastiques. Ils pensent aussi que PVC est le pire, et PE/PP sont les meilleurs, autre que les plastiques bio qui ne sont pas très pratiques pour des choses destiné à être solide.
www.aquaponie.fr • Afficher le sujet - PVC
Arduino hydroponic greenhouse Project
Urban Garden Magazine | My Quest for "Bioponics"
It's not every day that we here at Urban Garden HQ come across somebody who has discovered a completely new way of growing plants. However, that's exactly what William Texier from GHE has achieved! It's called "bioponics" – a marriage of hydroponics and organics. We asked William to share his personal story with us.
Blog Fleursdubien - Jardin d'interieur, hydroponie et ultraponie.
Le serveur a compris la requête, mais refuse de la satisfaire. Une démarche d'authentification n'y fera rien et cette requête ne doit pas être renouvelée. Si la méthode invoquée est différente de HEAD et le serveur souhaite rendre public la raison pour laquelle il refuse le traitement, il le fera dans l'entité liée à cette réponse. Ce code d'état est souvent utilisé lorsque le serveur ne souhaite pas s'étendre sur les raisons pour lesquelles il refuse un accès, ou parce que c'est la seule réponse qui convienne. Vous tentez d'accéder à une ressource qui vous est interdite. Il se peut que le compte concerné soit suspendu (Cf.
Urban Garden Magazine | Cultivation indoors and outdoors using hydroponics and organics
Un article de Ékopédia, l'encyclopédie pratique.
Hydroponie
La Culture Hydroponique en Thaïlande
Mr Tchen est un producteur de légume, installé à Trat, il utilise une technique de culture hydroponique (du grec «Hydro = eau» et «ponos = travail») qui ne nécessite ni engrais ni pesticide. Les graines sont plantées sous de la mousse humidifiée : 5 jours après la germination les jeunes pousses sont mises dans des mini-serres constituées d'un bac recouvert d'un plastique noir épais contenant de l'eau, d'une plaque de polystyrène percée où sont introduites les plantes (le principe étant que l'eau ne soit pas en contact avec l'air, culture sans oxygène), le tout est protégé des insectes par une toile et un toit en plastique.
Projet_Suao
Traduction
The Hydroponic, Automated arduino
Arduino hydroponic greenhouse Project New Zealand
Hydroponics « Inventgeek.com – Blog
Liste des revendeurs
Sustainable Energy: Thermal Banking Greenhouse Design
arduino greenhouse
arduino aquaponic
Help with Breeding pens. NEED PICS
La bioponie, quelques informations - Comment ça pousse ? Le guide de la culture hydroponique
Bioponic
Bottle Hydroponic Systems | Hydroponics Equipment | Hydroponic Gardening Supplies & Systems
Blog Fleursdubien - Jardin d'interieur, hydroponie et ultraponie.
DIY Aeroponic System | AeroGarden Mastery
Edible Urban Architecture
"Culture des Fraises Hors Sol"
semis flottants
Comment ça pousse ? Le guide de la culture hydroponique
Aquaponics Global
Fish Tank « Garden Aquaponics in the UK
Brown Trout Spawning
OSRL Forum: Aquaponics test rig
February 2012
unnamed pearl
Tiny Pallet House
IBCofAquaponics1.pdf (Objet application/pdf)
www.aquaponie.fr • Page d'index
The Gengas Page
Algae Photo Bio Reactor V2 - Page 5
AlgaeGeek.com
A Guide To Selecting Aquaponics Fish | Aquaponics System Plans
Rory Allison backyard aquaponics system - AquacultureHub
Jade Perch fisch aquaponic
joint uniseal
DIY Mini Aquaponic Vegetable and Fish Farm
Barrel Systems - Aquaponic Gardening
Aussie Aquaponics | Homestead Basics
Green Acres aquaponic
Urban Aquaponics - Aquaponics Community for Aquaponics Enthusiasts
Aquaponics: fish + veg = food | Emily Drinking Tea
Diy Hydroponic Greenhouse Update 01
Ozzies' Aquaponics Digest
pvc aquaponic
Kitchen Aquaponics: Initial Setup (1/2)
Aquaponics 02 - Building the System (update)
We got Quail!
DIY Aquaponics: Building a Vortex Filter (Video)
www.aquaponie.fr • Afficher le sujet - Mon installation aquaponique familliale
Aquaponics – How Does It Work? | Gary Peer Real Estate Report
Affnan's Aquaponics
Aquaponics 4 You - Step-By-Step How To Build Your Own Aquaponics System
Inspirations | The Aquaponic Source
Fish species for your Aquaponics system | Cebu Aquaponics Philippines
Open Source Resilient Living
DIY Aquaponics • View topic - Sub-Surface Aquaponics
aquaponic nursery
backyardaquaponics
aquaponic systems - Southern Arizona Preppers (Tucson, AZ