Writing
Business 2 Blogger. Find a Blogger. Product Reviews. Elizabeth Gilbert on nurturing creativity | Video on TED.com - StumbleUpon. 25 Things Every Writer Should Know. An alternate title for this post might be, "Things I Think About Writing," which is to say, these are random snidbits (snippets + tidbits) of beliefs I hold about what it takes to be a writer.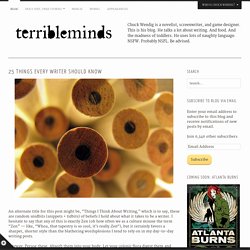 I hesitate to say that any of this is exactly Zen (oh how often we as a culture misuse the term "Zen" — like, "Whoa, that tapestry is so cool, it's really Zen"), but it certainly favors a sharper, shorter style than the blathering wordsplosions I tend to rely on in my day-to-day writing posts. Anyway. Peruse these. Absorb them into your body.
Makin' the pages. Pumping mental iron. Going public.
---