Webdesign
Free animated gifs, free animations, 3D gif animations Christmas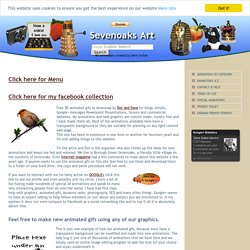 Information about this website Original free 3D animated gifs to download by Dot and Dave for blogs, emails, Google+ messages Powerpoint Presentations, forums and commercial websites. My animations and web graphics are custom made, royalty free and I have made them all.
Open Clip Art Library Clip Art
#666666 Hex Color
Web colors are colors used in designing web pages, and the methods for describing and specifying those colors. Colors may be specified as an RGB triplet or in hexadecimal format (a hex triplet). They may also be specified according to their common English names in some cases. Often a color tool or other graphics software is used to generate color values. In some uses, hexadecimal color codes are specified with notation using a leading number sign (#).[1][2] A color is specified according to the intensity of its red, green and blue components, each represented by eight bits.