Dictiionaries
Thinkmap Visual Thesaurus - An online thesaurus and dictionary of over 145,000 words that you explore using an interactive map.
Welcome to the Visual Thesaurus, an interactive tool that allows you to discover the connections between words in a visually captivating display. Word maps let you search for just the right word and then explore related concepts, revealing the way words and meanings relate to each other. It's a word-lover's delight, with more than 145,000 words and 115,000 meanings organized in an innovative and intuitive design. Try it now! Access to the Visual Thesaurus also includes our online magazine, updated daily with fresh new content about language and the creative process. Informative features explore everything from how writers find inspiration to how words and phrases become part of our lexicon.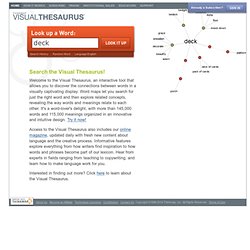 Visuwords™ online graphical dictionary — Look up words to find their meanings and associations with other words and concepts. Produce diagrams reminiscent of a neural net. Learn how words associate. Enter words into the search box to look them up or double-click a node to expand the tree. Click and drag the background to pan around and use the mouse wheel to zoom.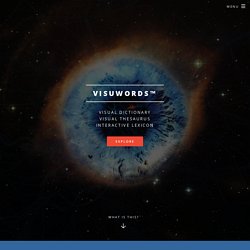 The Free Dictionary - - Arabicقاموس، موسوعة وقاموس مرادفات