Blogs
Be HAPPIER in your HOME | Found this list on apartmenttherapy.com and was inspired!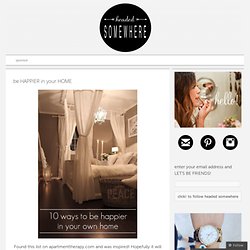 Hopefully it will inspire you t00! 1. Make your bed. The book The Happiness Project, explains that this three minute task is one of the simplest habits you can adopt to positively impact your happiness. 2. Belleoftheball - Polyvore. 40's, 50's, 60's. Welcome To My World Of Beauty. Design Crush & Tipped Out - StumbleUpon. Adele Oh I love it!!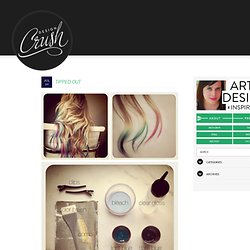 I am blonde, but not sure I would dare do this to my own hair!!!! 07-20-11 » 10:03 am » Addie I absolutely LOVE this…. and if something went wrong, all you have to do is cut it off… Although, from experience, coloring blonde hair is not as great as you would expect… the color fades way faster than you would think b/c when you bleach darker hair, it kind of damages it, so the color really soaks into the hair, with blonde hair, it isnt damaged, so it doesnt soak in as well…Im such a nerd, sorry 07-20-11 » 10:08 am » Paige Seriously wishing I was blonde right about now to do this to my tips!
Or would it still look cool with brown hair? 07-20-11 » 10:10 am » Kelly i'm dark brown and would try it if my hair were a bit a longer – i say go for it! 07-20-11 » 10:17 am » Sara I absolutely ADORE this look. Jenna Sue: My alternative to the file cabinet. UPDATE: Check out the finished version of my File Cabinet makeover here, complete with free binder printables!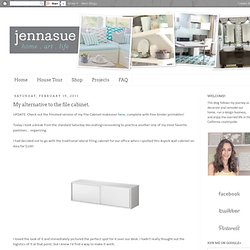 Today I took a break from the standard Saturday decorating+renovating to practice another one of my most favorite pastimes... organizing. I had decided not to go with the traditional lateral filing cabinet for our office when I spotted this Aspvik wall cabinet on Ikea for $100: I loved the look of it and immediately pictured the perfect spot for it over our desk. I hadn't really thought out the logistics of it at that point, but I knew I'd find a way to make it work. Whilst at Ikea, I grabbed a couple packages of these babies for just $2 each: Reader Space: Sew Amazing Office/Craft Zone! I am such a believer that our spaces should not only welcome us, make us feel great, hug us with happiness and warmth, but they should also be a reflection of our personality.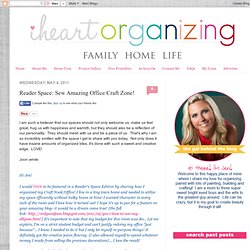 They should mesh with us and be a piece of us. That's why I am so incredibly smitten with the space I get to share with you today. Not only does it have insane amounts of organized bliss, it's done with such a sweet and creative edge. LOVE! Joon wrote: How I organize: Game cupboard. My husband and I are not big "game people" but our kids are!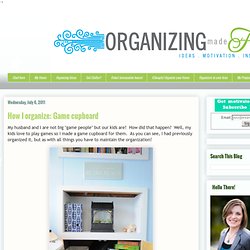 How did that happen? Well, my kids love to play games so I made a game cupboard for them. As you can see, I had previously organized it, but as with all things you have to maintain the organization! It's located in our family room, which we are fortunate to have lots of cupboards in there! Scratch Off Lottery Tickets - DIY + Free Printables. There are a lot of birthdays in August among my family and friends, and I've been thinking a lot about which presents to get.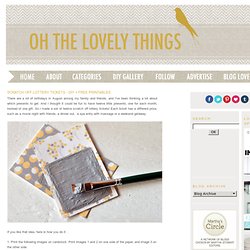 And I thought it could be fun to have twelve little presents, one for each month, instead of one gift. So I made a set of twelve scratch off lottery tickets! Each ticket has a different prize, such as a movie night with friends, a dinner out, a spa entry with massage or a weekend getaway. If you like that idea, here is how you do it : 1. Always Chrysti - Always Chrysti - 25 ways to fit creativity into your busy life +winners. Please accept my apologies for not doing this yesterday; I went out to dinner last evening and by the time I got home, my brain was mush.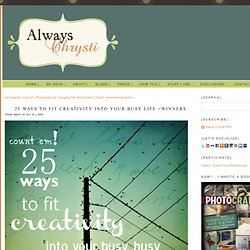 Mushy brain doesn't make for good blogging, or good anything really. Seriously folks - I can't thank you enough for spreading the word on the giveaway. It means so very much to me as I emerge back into the creative blogging world. As far as I'm concerned, you are each winners. When I saw that you shared so many amazing and practical tips on fitting art into your life, I just knew I had to condense them and post in one spot. Self portrait outfit photography guide . photography month.
You guys, I'm so excited to have Elycia of ♥elycia on the blog today!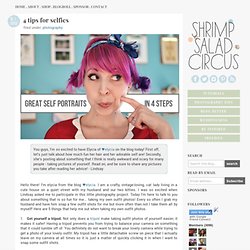 First off, let's just talk about how much fun her hair and her adorable self are! Secondly, she's posting about something that I think is really awkward and scary for many people - taking pictures of yourself. Read on, and be sure to share any pictures you take after reading her advice! Don't forget to smile.
Nail Polish Prints. Finally I took the time to paint my nails- to try the rubbing alcohol prints!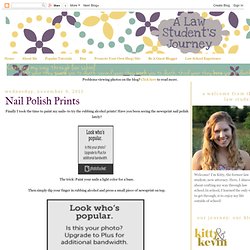 Have you been seeing the newsprint nail polish lately? The trick: Paint your nails a light color for a base. Then simply dip your finger in rubbing alcohol and press a small piece of newsprint on top. You want to hold it on there for about 30 seconds, I thought you could just press and go...but you need the ink to be dark. GUEST POST - thebeautydepartment.com - StumbleUpon. Photos by: Kathleen Bly post designed by kristin ess Mad love for our first guest post winner, Taylor Nick!!!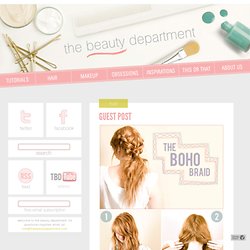 I am fully obsessed with this bohemian-inspired-braided-goodness! Even though Taylor had some SERIOUS competition, there's no doubt that this little lady took the cake in our hair tutorial contest. Rainbow Cake in a Jar. I've always had a penchant for sunshine in a jar. Doesn't the very phrase itself, "sunshine in a jar," roll off your tongue and fill your mouth with magic? While I've never yet found myself a sunshine in a jar, I think we may have just concocted it in our kitchen tonight.
Running With Glitter: Jar of Happiness for my Birthday. Tuesday is my thirty-something birthday and I wanted to make something fun for myself. A little happiness in a jar for my happy day please! These are great because I know that in no way during the week could I make a cake for myself.
---