Cool info sites
4chan's Chris Poole: Facebook & Google Are Doing It Wrong. Chris Poole delivered the most powerful 10 minutes of Web philosophy of the afternoon at Web 2.0.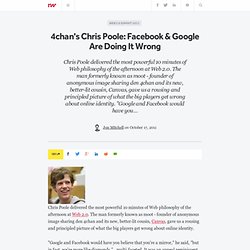 The man formerly known as moot - founder of anonymous image sharing den 4chan and its new, better-lit cousin, Canvas, gave us a rousing and principled picture of what the big players get wrong about online identity. "Google and Facebook would have you believe that you're a mirror," he said, "but in fact, we're more like diamonds. " - multi-faceted. It was an appeal reminiscent of the one he gave at SXSW earlier this year, but it hit harder. Google Plus has since arrived, and Poole says it's even worse than Facebook for the future of online identity. Identity Is Prismatic. Innovation Excellence. Welcome to the world's most popular innovation blog, featuring regular contributions from the brightest minds in the field of enterprise innovation — thought leaders, practitioners, consultants, vendors, and academia.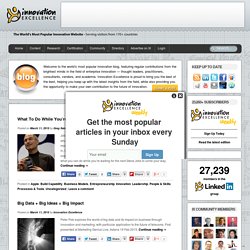 Innovation Excellence is proud to bring you the best of the best, helping you keep up with the latest insights from the field, while also providing you the opportunity to make your own contribution to the future of innovation.Submit A Post. NEW VALUE CHAIN MODELS. The Social Media Strategist  It's hard not to know a social media strategist or planer these days.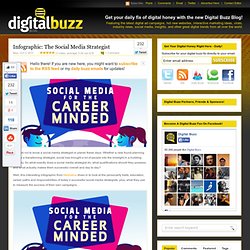 Whether a new found planning love or a transitioning strategist, social has brought a lot of people into the limelight in a budding industry. So what exactly does a social media strategist do, what qualifications should they possess, and what actually makes them successful overall and day to day? Well, this interesting infographic from Mashable dives in to look at the personality traits, education, career paths and responsibilities of today's successful social media strategists, plus, what they use to measure the success of their own campaigns… Digital Buzz Blog | Digital Campaigns, Online Marketing, Social & More.
---