Cool info sites
4chan's Chris Poole: Facebook & Google Are Doing It Wrong
Chris Poole delivered the most powerful 10 minutes of Web philosophy of the afternoon at Web 2.0 .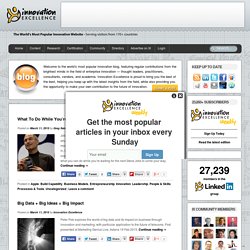 Welcome to the world's most popular innovation blog, featuring regular contributions from the brightest minds in the field of enterprise innovation — thought leaders, practitioners, consultants, vendors, and academia. Innovation Excellence is proud to bring you the best of the best, helping you keep up with the latest insights from the field, while also providing you the opportunity to make your own contribution to the future of innovation. Submit A Post
NEW VALUE CHAIN MODELS
It's hard not to know a social media strategist or planer these days.
Infographic: The Social Media Strategist