Corruption
Group of States against corruption (GRECO) Website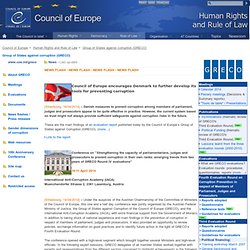 Council of Europe encourages Denmark to further develop its tools for preventing corruption Conference on "Strengthening the capacity of parliamentarians, judges and prosecutors to prevent corruption in their own ranks: emerging trends from two years of GRECO Round IV evaluations" 10-11 April 2014 International Anti-Corruption Academy (IACA)Muenchendorfer Strasse 2, 2361 Laxenburg, Austria [Strasbourg, 14/04/2014] – Under the auspices of the Austrian Chairmanship of the Committee of Ministers of the Council of Europe, this one and a half day conference was jointly organised by the Austrian Federal Ministry of Justice, the Group of States against Corruption of the Council of Europe (GRECO), and the International Anti-Corruption Academy (IACA), with extra financial support from the Government of Monaco.
For 17 years, Global Witness has run pioneering campaigns against natural resource-related conflict and corruption and associated environmental and human rights abuses. From Cambodia to Congo, Sierra Leone to Angola, we have exposed the brutality and injustice that results from the fight to access and control natural resource wealth, and have sought to bring the perpetrators of this corruption and conflict to book. Our work has revealed how, rather than benefiting a country's citizens, abundant timber, diamonds, minerals, oil and other natural resources can incentivise corruption, destabilise governments, and lead to war. Through our investigations, advocacy and campaigning, we seek solutions to the 'resource curse' so that citizens of resource-rich countries can get a fair share of their country's wealth.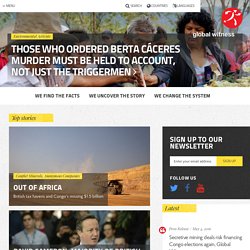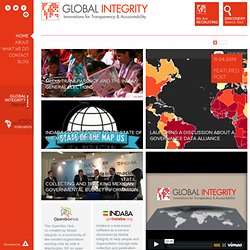 Global Integrity - Welcome
Global Integrity is an innovation lab that produces high-quality research and creates cutting-edge technology to advance the work of a global network of civic, public, and private reformers pursuing increased transparency and accountability in governments. In addition to our core team, we collaborate with a global network of thousands of in-country contributors and partners who take our technologies, tools, and information to where they are most useful – the local level.
EUROPEAN PARTNERS AGAINST CORRUPTION
The European Partners against Corruption (EPAC) and European contact-point network against corruption (EACN) are independent forums, united in the common goal of preventing and combatting corruption. Together, we offer a platform for anti-corruption and police oversight practitioners to share experiences and cooperate across national borders in developing common strategies and high professional standards. We advocate international legal instruments and offer assistance to other bodies for establishing transparent, efficient mechanisms. We have more than 80 authorities from Council of Europe and European Union Member States, and an ever growing number of partners.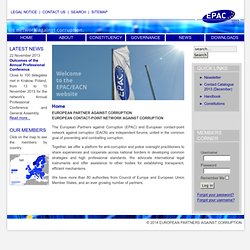 Prof. Azinge Friday, March 28, 2014
Nathanson Centre on Transnational Human Rights, Crime and Security