Outils
Android Niceties. Android niceties. Packs Archive - Tileables. 20 ressources gratuites PSD (GUI) Pour un des premiers articles sur les ressources gratuites du net, je vous ai fais un petit "best of" des meilleurs éléments "GUI" (= graphical user interface) qui sont utilisables sur des projets personnels / commerciaux au format PSD et gratuit.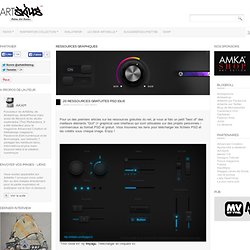 Vous trouverez les liens pour télécharger les fichiers PSD et les crédits sous chaque image. Enjoy ! "Tron Glow kit" by thiyagu. Sliding Image Panels with CSS3. Clean CSS - A Resource for Web Designers - Optmize and Format your CSS. Icon Search Engine | Iconfinder. LaLogotheque.com : Banque de LOGOS et ressources vectorielles (format Illustrator). logo, logos, logotheque, illustrator, vectorial, vectoriel. Free Vector Art - Download Free Vector Art Graphics at Vecteezy! Free Photoshop Brushes at Brusheezy! BLUE VERTIGO | Web Design Resources Links | Last update NOV.05.2010. Kollermedia.at - The Website of the Freelancer Jürgen Koller.
[CG Textures] - Textures for 3D, graphic design and Photoshop! Smashing Magazine. CSS Design - CSS Gallery - Inspiration - Showcase - Ressources et outils SEO. Content Management System (CMS) Icon Set (12 Free Icons) - Smashing Magazine. Advertisement Today we are glad to release CMS Icon Set, a set with 12 high quality icons in 48×48px, available in the .png-format.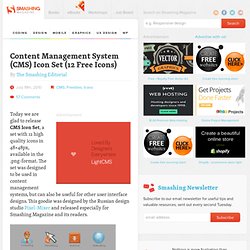 The set was designed to be used in content management systems, but can also be useful for other user interface designs. Free PNG Credit Card, Debit Card and Payment Icons Set (18 Icons) - Smashing Magazine. Advertisement Today we are glad to release a Payment Icon Set, a set with 18 payment icons in PNG format, in the resolutions 32×32px — 128×128px.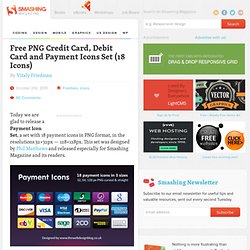 This set was designed by Phil Matthews1 and released especially for Smashing Magazine and its readers. The icons are inteded to be used on e-commerce websites where you can show what types of payment the shop accepts. Each icon comes in curved and straight edge variations. 25 Beautiful Free Buttons for web designers with source file | DJDESIGNERLAB - Find All Your Design Inspirations From This Laboratory. Today I am going to showcase some fabulous web2.0 buttons for my web designer friends that can edit as you like.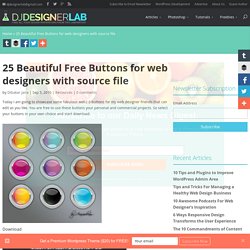 You are free to use these buttons your personal and commercial projects. So select your buttons in your own choice and start download. Are you looking to contribute to our design community ? Suggest a link to a relevant article, or submit your own! BundleHunt - The Greatest Design Treasure.
---