SCIENCE 2012
Scientists have found the biggest and oldest reservoir of water ever--so large and so old, it's almost impossible to describe. The water is out in space, a place we used to think of as desolate and desert dry, but it's turning out to be pretty lush. Researchers found a lake of water so large that it could provide each person on Earth an entire planet's worth of water--20,000 times over.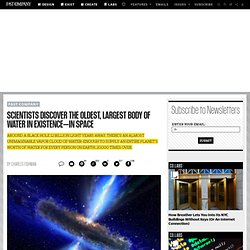 Carzor! The Stubble Eliminator! Have you ever woken up one day, gotten ready for work, prepared for the biggest meeting of your LIFE, and realize, oh NO! There's stubble on your face? Well let me tell you about this thing then!
Carzor by Kuo Chia Hung & Yanko Design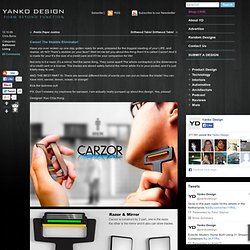 QUANTUM MECHANICS HOMEOPATHY
Animated Science Science FLV's
Aug. 21, 2010 — Ask people to think of the ultimate future car, and their answer is often K.I.T.T. -- the legendary talking supercar from the US television series "Knight Rider." A hydrogen turbo motor fuels the fantasy vehicle and propels it on the chase for the bad guys at over 300 miles an hour. In the future, cars may be equipped with hydrogen propulsion not just in TV shows, but in real life as well. In the transportation and energy sectors, hydrogen is viewed as an eventual alternative to the raw materials of fossil-fuel power, such as coal, petroleum and natural gas. However, for metals like steel, aluminum and magnesium -- which are commonly used in automotive and energy technology -- hydrogen is not quite ideal. It can make these metals brittle; the ductility of the metal becomes reduced.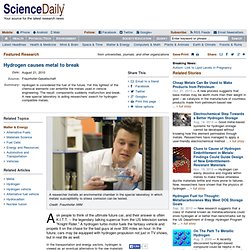 Hydrogen causes metal to break
Other Earth Sciences
NASA -1 GIANT CLICK 4 MANKIND. . .