History
Home | RDNS Reflections. D-Day to Victory: SceneIndex/5. The History of English in Ten Minutes - OpenLearn - Open University - StumbleUpon. Teachers TV video collection - Primary History - Lesson Starters - The Victorians. Skip to main content Jobs TES the largest network of teachers in the world.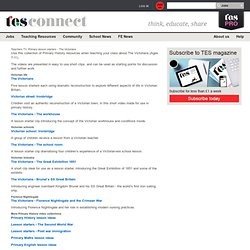 Holocaust Resources for Teachers. Britain through Time: An excellent resource for #historyteacher. Clarksons Box Creator Museum Box : Editor. DocsTeach. History - British History in depth: British History Timeline. California Gold Rush - A fun poem for kids. The California gold rush took place in the days of the wild west, when thousands of people flocked to the area convinced that they would find gold and make their fortunes.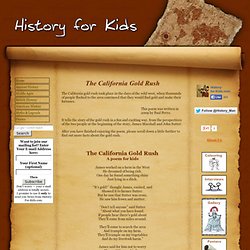 This poem was written in 2009 by Paul Perro. It tells the story of the gold rush in a fun and exciting way, from the perspectives of the two people at the beginning of the story, James Marshall and John Sutter. Social Storytelling | Online Timeline Maker | Share Photos, Videos, Text, Music and Documents Easily. Chrisleach78/gunpowdertweetingplot... Pick a year, click refresh, and TRAVEL THROUGH TIME. Primary History - Home - primaryhistory. Directors: Jon Nichol, John Fines, Jacqui Dean and Ray Verrier The Nuffield Primary History principle is that everything published has been taught by teachers or the team.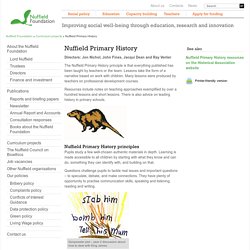 Lessons take the form of a narrative based on work with children. Many lessons were produced by teachers on professional development courses. Resources include notes on teaching approaches exemplified by over a hundred lessons and short lessons. There is also advice on leading history in primary schools. Historypin | Home. Webexhibits.
---