Internship
Dear JPOs, I am happy to welcome you to the JPO Career Management Website, which offers helpful information, tools, and resources for your career planning process. Over the past 50 years the Junior Professional Officer (JPO) Programme has provided young, motivated professionals the opportunity to gain experience in development management and multilateral development cooperation, as well as direct exposure to the UN System. The JPO Programme is one of the key talent intakes for UNDP at entry-level and continues to stand as the best entry point for employment within the UN System, with more than one-third of UNDP JPOs having been retained in the UN System over the past decade. Within UNDP, former and current JPOs represent around 20% of the professional staff, and approximately 25% of current UN Resident Coordinators are former Junior Professional Officers.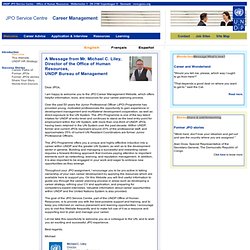 Junior Professional Officer Service Centre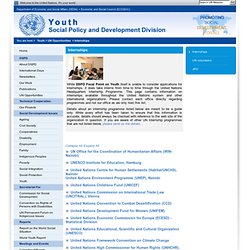 UNA-USA awards a variety of part-time and full-time internships to highly motivated high school, undergraduate and graduate students. Interns must possess a strong interest in international affairs, good writing and research skills, and formidable knowledge of the United Nations and other multilateral institutions. While the internships are not salaried positions, interns have found the experience of working at UNA-USA and exploring the U.N.'s resources rewarding in other ways, both educationally and vocationally.
Internships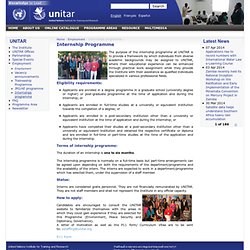 The purpose of the internship programme at UNITAR is to provide a framework by which individuals from diverse academic backgrounds may be assigned to UNITAR, where their educational experience can be enhanced through practical work assignment while they provide the Institute with their assistance as qualified individuals specialized in various professional fields. Eligibility requirements:
Internship Programme
IICPSD Summer Internship Programme | UNDP in Turkey
Development:Contact Us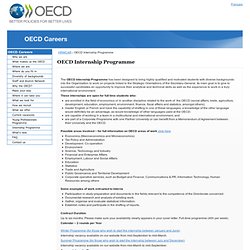 Internship Programme
The OECD Internship Programme has been designed to bring highly qualified and motivated students with diverse backgrounds into the Organisation to work on projects linked to the Strategic Orientations of the Secretary-General. Its main goal is to give to successful candidates an opportunity to improve their analytical and technical skills as well as the experience to work in a truly international environment. These internships are open for full time students who:
Why Work at the World Bank? We recognize that poverty has no borders. Neither does excellence. So we are continually in search of the brightest, most talented individuals from around the globe.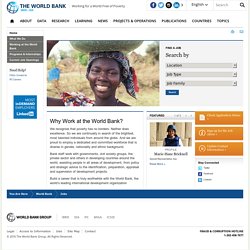 Jobs - Bank Internship
Jobs - Junior Professional Associates
Hudson Institute is one of the oldest and most respected think tanks in the world. Founded in 1961 by Herman Kahn and headquartered in Washington D.C. the Institute offers internships in our office in Washington, D.C. to undergraduates, graduates, and postgraduate students. Hudson has garnered local, national, and international acclaim with its hands-on research and offers a unique opportunity for its interns to work with Hudson researchers in policy areas such as Campaign Reform, Economic and Employment Policy, Middle East Studies, Philanthropy and Civic Renewal, National Security Studies, and Science in Public Policy.
Institute > About Hudson > Internship Home