Marketing / Socio / Trends
Spookette : Hydrate like a star ... Etudes - Quels sont les secrets des marques irrésistibles ? Publié le 20 mars 2014 Mais comment font certaines marques pour générer auprès des consommateurs un capital de sympathie à faire pâlir leur concurrent ?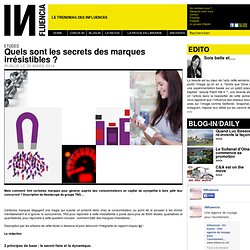 Description du Needscope du groupe TNS… Certaines marques dégagent une magie qui suscite un profond désir chez le consommateur, au point de le pousser à les choisir inévitablement et à ignorer la concurrence. TNS pour répondre à cette irrésistibilité a puisé dans plus de 8000 études, qualitatives et quantitatives, pour répondre à cette question cruciale : comment bâtir des marques irrésistibles…
Advertising, media, marketing and PR news & jobs - Brand Republic. Home. PSFK - the go-to source for new ideas. Com: Consumer trends and insights from around the world. Springwise | New business ideas from around the world. L'Observatoire Cetelem - Accueil. NOS CLIENTS DEMAIN. Sourcing CRÉDOC. Sourcing CRÉDOC est un système de gestion et d'accès à certains des rapports d'études et de recherche réalisés par le CRÉDOC depuis sa création, il y a cinquante ans.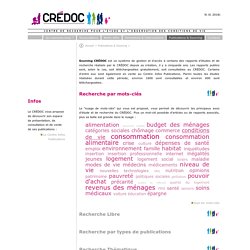 Les rapports publics sont, selon le cas, soit téléchargeables gratuitement, soit consultables au CRÉDOC. Certains d'entre eux sont également en vente au Centre Infos Publications. Parmi toutes les études réalisées durant cette période, environ 1350 sont consultables et environ 350 sont téléchargeables. Recherche par mots-clés. LSA - actualité consommation des ménages et grande distribution. La FEVAD - Accueil.
---