Cms
Concrete5 - fr
Qu'est-ce que concrete5 ? C''est un système de gestion de contenu (SGC ou CMS en anglais) conçu pour une utilisation simple, une prise en main rapide, une gestion avancée de sites web dynamiques. En effet vous pouvez éditer votre site directement en façade (frontend en anglais), déplacer vos articles et vos pages par simple glissé/déposé, assigner un modèle de page et/ou un thème différent sur chaque page, et plus encore. Voici quelques captures d'écrans de concrete5 Convivial et innovateur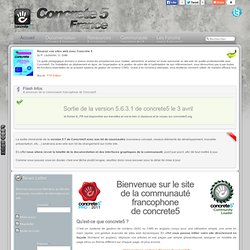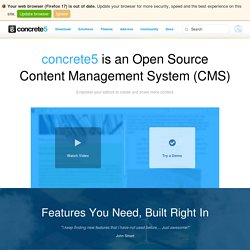 A simple and powerful content management system. Site Editors When your website is built with concrete5, you easily change content from anywhere in the world.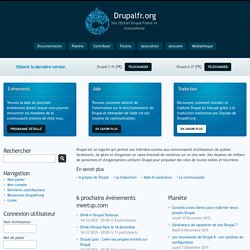 Maintenance des derniers jours Soumis par Guillaume Bec le Bonjour à tous, Comme vous vous en doutez Drupalfr.org est régulièrement mis à jour par l'équipe des webmasters de l'association. Seulement voilà nous sommes humains et cette fois ça s'est vu !
infojunkie committed Add date to ebook formatter + fix MIME... sammarks15 committed Fix old references from entity_menu_links Ben Howes committed Merge pull request #2 from ZoetropeImaging/7... Ben Howes committed added example of templating Ben Howes committed updated README with display formatter info Ben Howes committed added field formatter to combine with a list...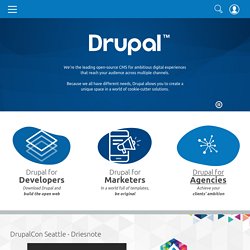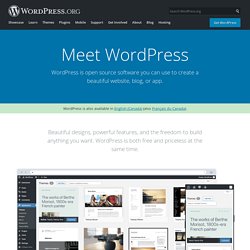 WordPress is web software you can use to create a beautiful website or blog. We like to say that WordPress is both free and priceless at the same time. The core software is built by hundreds of community volunteers, and when you're ready for more there are thousands of plugins and themes available to transform your site into almost anything you can imagine. Over 60 million people have chosen WordPress to power the place on the web they call "home" — we'd love you to join the family.