Hebrew
Hebrew beginners Feb 1
Hebrew Alphabet flashcards
Aleph-Bet Video
Learn Biblical Hebrew - lesson 1 - Hebrew AlefBet | by eTeacherBiblical.com
Learn Hebrew with Pictures and Audio ( English - Hebrew Dictionary )
Hebrew Word Study | Skip Moen
Hebrew Streams: Ancient Hebrew Elements in the New Testament
BIBLICAL HEBREW made easy COURSE A self-study Biblical Hebrew correspondence course with optional Email/postal tutoring and/or private/group tutorials. The course is modular in design aimed at all ages and abilities and covers both the language and the worldview of Biblical Hebrew. The "BIBLICAL HEBREW made easy" course is outlined, unit by unit, including sample pages and future developments. Students now number several hundred and are found on five continents. Our student directory means that we can put you in touch with other Hebrew students in the area where you live. Already some have formed mutual study groups and in the UK, tutorial groups.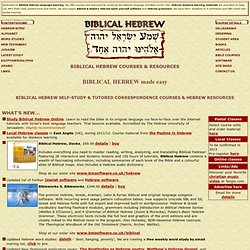 Biblical Hebrew self-study/tutored courses, audio, books, tapes, MP3, software, lexicons, grammars, resources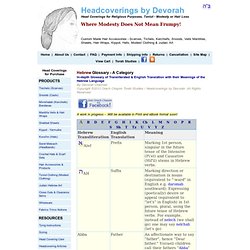 Then name Ashkenaz (Bereishit 10:3) has since the 10th century been identified with Germany. As the German and French Jews of the medieval period formed a uniform group in culture and religious customs, they were all referred to as Ashkenazim in contradistinction to the Sefardim or Spanish- Portuguese Jews. Ashkenazim are the people who use Nusach Ashkenaz, the prayer arrangement adopted by the medieval Franco-German Jews, including certain variations described as belonging to the Polish custom (Minhag Polin). In the 18th century, the Chasidic movement adopted the Sefardic arrangement of prayers; hence, the Chasidim have been called Sefardim on many occasions. The Ashkenazim in Eastern Europe developed an intense religious life, disseminating Talmudic scholarship among the people to a degree never before surpassed in Jewish history.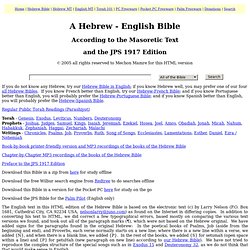 According to the Masoretic Text and the JPS 1917 Edition © 2005 all rights reserved to Mechon Mamre for this HTML version If you do not know any Hebrew, try our Hebrew Bible in English; if you know Hebrew well, you may prefer one of our four all Hebrew Bibles. If you know French better than English, try our Hebrew-French Bible; and if you know Portuguese better than English, you will probably prefer the Hebrew-Portuguese Bible; and if you know Spanish better than English, you will probably prefer the Hebrew-Spanish Bible.