ANONYMOUS
Supposed Anonymous hack 'unmasks members' High performance access to file storage IP addresses, chat logs and plain text passwords purporting to belong to members of Anonymous have been posted online.
The data, posted to paste2.org, appeared around the same time on Tuesday that a semi-official news outlet used by Anonymous (Anonops.net) was "hacked" to point at a site mocking the hacktivist collective (screenshot here). Mutiny Within Anonymous May Have Exposed Hackers' IP Addresses - Andy Greenberg - The Firewall. Sony Hack Probe Uncovers 'Anonymous' Calling Card | GameLife. In the course of its investigation into the PlayStation Network security breach, Sony discovered a file that makes a clear reference to the "Anonymous" hacking group.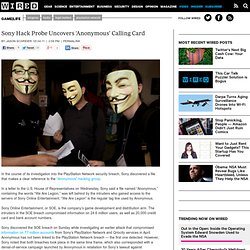 In a letter to the U.S. House of Representatives on Wednesday, Sony said a file named "Anonymous," containing the words "We Are Legion," was left behind by the intruders who gained access to the servers of Sony Online Entertainment. "We Are Legion" is the regular tag line used by Anonymous. Sony tells Congress about Anonymous and Playstation Network outage - Los Angeles LA Action-Adventure Game. Contrary to the word on the streets, at the time of this article, Sony's Playstation Network is still not back up in Los Angeles or the rest of the United States.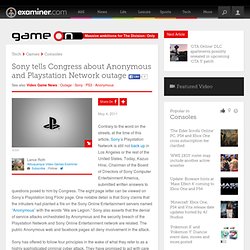 Today, Kazuo Hirai, Chairman of the Board of Directors of Sony Computer Entertainment America, submitted written answers to questions posed to him by Congress. The eight page letter can be viewed on Sony's Playstation blog Flickr page. One notable detail is that Sony claims that the intruders had planted a file on the Sony Online Entertainment servers named "Anonymous" with the words "We are Legion." Sony Blames Anonymous For Latest Hack... Apparently Sony has decided to pick on an easy target for its latest data breach: Anonymous.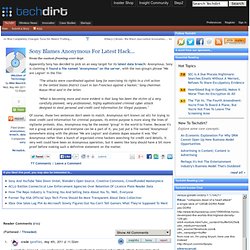 Sony is claiming it found a file named "Anonymous" on the server, with the non-group's phrase "We are Legion" in the file: "The attacks were coordinated against Sony for exercising its rights in a civil action in the United States District Court in San Francisco against a hacker," Sony chairman Kazuo Hirai said in the letter. "What is becoming more and more evident is that Sony has been the victim of a very carefully planned, very professional, highly sophisticated criminal cyber attack designed to steal personal and credit card information for illegal purposes.
" Of course, those two sentences don't seem to match. The Breaking Time: Fragmented plurality: An interview with Gabriella Coleman. Photo by Simon Law Gabriella Coleman moves between a lot of different worlds.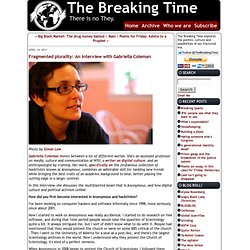 She's an assistant professor on media, culture and communication at NYU, a writer on digital culture, and an anthropologist by training. Her work, specifically on the (in)famous collection of hacktivists known as Anonymous, combines an admirable skill for tackling new trends while bringing the best traits of an academic background to bear, better placing the cutting edge in a larger context. In this interview, she discusses the multifaceted beast that is Anonymous, and how digital culture and political activism collide.
How did you first become interested in Anonymous and hacktivism? Anon survival guide. iLivid download manager has powerful features that make it the fastest and easiest way to download hosted files from Rapidshare.com, Hotfile.com & more.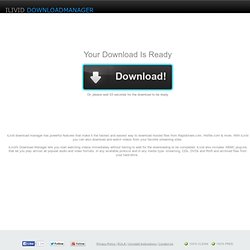 With iLivid you can also download and watch videos from your favorite streaming sites. iLivid's Download Manager lets you start watching videos immediately without having to wait for the downloading to be completed. iLivid also includes XBMC plug-ins that let you play almost all popular audio and video formats, in any available protocol and in any media type: streaming, CDs, DVDs and RAR and archived files from your hard-drive..
FBI. HBGARY. OPS. Why We Protest.
---