NEWS
UbuWeb | Winter 2014 Robert Ashley, 1930-2014 UbuWeb mourns the passing of the great American composer Robert Ashley. You can listen to his music and invterviews here, watch his films here, read about him here. If you're unfamiliar with his work, the best place to start is Peter Greenaway's documentary Four American Composers: Robert Ashley (1983).
Fylkingen | - ny musik & intermediakonst
Datum: 9 Apr 2014 - 18:00 - 22:00 18.00 Programlängd: 60 min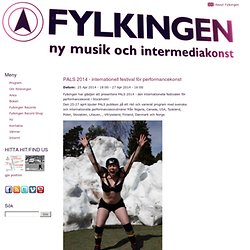 Mellan tolkning och replik – Sven-David Sandströms Matthäus-Passion i Berlin 16 april 2014 av Andreas Engström | Besökt, Recensioner Sven-David Sandström: Matthäus-Passion – Staatskapelle Halle, Philharmonischer Chor, Uppsala Akademiska Kammarkör, dirigent Stefan Parkman – 16 februari 2014, Berliner Philharmonie Uppsala akademiska kammarkör.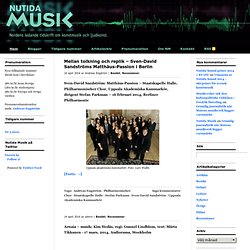 Nutida Musik
Audiorama
This wouldn't normally be news, but for whatever reason, the Roland AIRAs went flying off the shelves – missing any MIDI documentation. Ahem. We covered a number of these details before, including a Max for Live patch for the convenience of those of you integrating with Ableton. The good news: the hackers were right, and got more or less the entire implementation via trial and error. So, this is still a good resource:
Sonic Research Studio SFU