NEWS
UbuWeb | Winter 2014 Robert Ashley, 1930-2014 UbuWeb mourns the passing of the great American composer Robert Ashley. You can listen to his music and invterviews here, watch his films here, read about him here. If you're unfamiliar with his work, the best place to start is Peter Greenaway's documentary Four American Composers: Robert Ashley (1983).
Fylkingen | - ny musik & intermediakonst
Datum: 9 Apr 2014 - 18:00 - 22:00 18.00 Programlängd: 60 min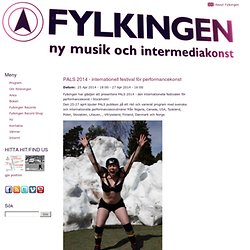 Nutida Musik
Audiorama
Minitaur in optional wood getup. But it's not just doing bass – think drum kits, too. Soundware to explore, not just to use as presets, in the latest goodies installment. Photo (CC-BY) Colombia's Audiotecna. Hardware is beautiful.
Sonic Research Studio SFU