Papers
A Scottish Yes vote would see the gloves come off - FT.com. Independence debate: Yes, Scotland? Even pro-unionists accept that the country has all the ingredients to be a viable nation state After 307 years as part of Great Britain, Scotland will soon decide whether it is time to once again go it alone.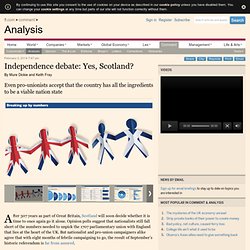 Opinion polls suggest that nationalists still fall short of the numbers needed to unpick the 1707 parliamentary union with England that lies at the heart of the UK. But nationalist and pro-union campaigners alike agree that with eight months of febrile campaigning to go, the result of September's historic referendum is far from assured. Politically Scotland has already left the union behind - FT.com. ©Sophie Gerrard Shrill, leaderless and fizzing with all the emotional power of a bank statement.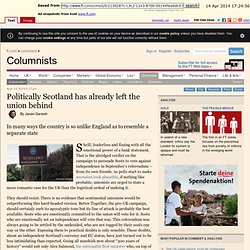 That is the abridged verdict on the campaign to persuade Scots to vote against independence in September's referendum – from its own friends. As polls start to make secession look plausible, if nothing like probable, unionists are urged to state a more romantic case for the UK than the logistical ordeal of undoing it.
Locals
News. Cookies are small data files which are sent to your browser (Internet Explorer, Firefox, Chrome etc) from a website you visit.
They are stored on your electronic device. This is a type of cookie which is collected by Adobe Flash media player (it is also called a Local Shared Object) - a piece of software you may already have on your electronic device to help you watch online videos and listen to podcasts. The Scotsman & Scotland On Sunday. News - Home News.
Press And Journal. The Aberdeen Press & Journal. The Daily Record - Scotland's newspaper. The Daily Record & Sunday Mail. Home. The Dundee Courier. The Sunday Post. The Sunday Post. Home. The Mail & Mail on Sunday. The Times | UK News, World News and Opinion. The Times & Sunday Times. Homepage | Breaking news, sport, showbiz, pictures and video from the Daily and Sunday Express newspapers - updated 24/7.
Daily Express & Sunday Express
The Scottish Sun | The Best for News, Scottish Sport, SPL news, Showbiz, Celebrities & TV | The Sun| The Sun. The Sun. The Independent | News | UK and Worldwide News | Newspaper. The Independent & Independent on Sunday. Telegraph.co.uk - Telegraph online, Daily Telegraph and Sunday Telegraph. The Telegraph & Sunday Telegraph.
Latest news, sport and comment from the Guardian. The Guardian & The Observer.
---