Potatos
How to Make Home Fries (Breakfast Potatoes): 10 steps. Edited by Burntheelastic, Chris Hadley, Teresa, Flickety and 18 others First of all, home fries are not French fries, and are meant to be eaten with a fork.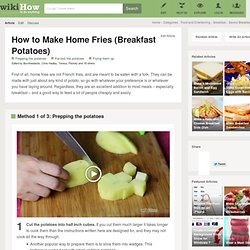 They can be made with just about any kind of potato, so go with whatever your preference is or whatever you have laying around. Regardless, they are an excellent addition to most meals – especially breakfast – and a good way to feed a lot of people cheaply and easily. Potato-Clam Chowder Recipe from Betty Crocker. Pierogi Recipe. October 2, 2010 My mom is obsessed with keeping a stocked freezer, but I guess I don't really take after her, because my freezer tends to be relatively empty, aside from random containers of stock/ramen broth, frozen dumplings and pierogi.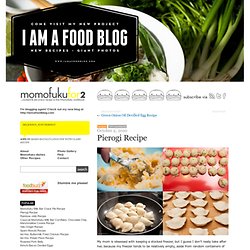 I admit, I store buy frozen chinese dumplings and pierogi for those times that I just don't feel like cooking. I tell myself it's because of ease and convenience, but really, I just love the taste of frozen pockets filled with deliciousness. Pierogi are fast, tasty, and ideal for when I let myself get too hungry and become a crazy unthinking monster. How to Make Pizza Without Dough | « LXRCUISINE. I was getting kind of sick of ordering delivery pizza (this happens at least 2-3 times a month).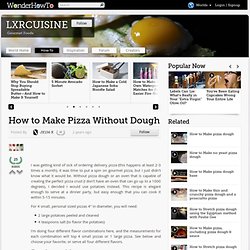 It was time to put a spin on gourmet pizza, but I just didn't know what it would be. Without pizza dough or an oven that is capable of creating the perfect pizza crust (I don't have an oven that can go up to a 1000 degrees), I decided I would use potatoes instead. This recipe is elegant enough to serve at a dinner party, but easy enough that you can cook it within 5-15 minutes. For 4 small, personal sized pizzas 4" in diameter, you will need: Recipe: Spicy Oven Fries. Baked Potato Soup Slow Cooker Recipe.
23 Flares Twitter 0 Facebook 1 StumbleUpon 0 Pin It Share 16 16 Google+ 6 Email -- Email to a friend Filament.io Made with Flare More Info 23 Flares × It has been so chilly here so early in the season.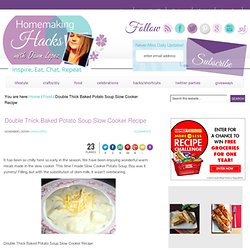 We have been enjoying wonderful warm meals made in the slow cooker. Scalloped Hasselback Potatoes. "Scalloped" is an attractive word, isn't it?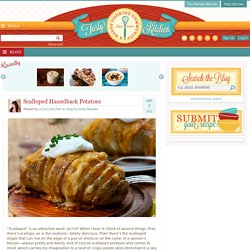 When I hear it I think of several things: first, there's scallops, as in the seafood—totally delicious. Then there's the scalloped shape that can live on the edge of a pair of shorts or on the collar of a woman's blouse—always pretty and dainty. And of course scalloped potatoes also comes to mind, which carries my imagination to a land of crispy potato skins drenched in a sea of cheese and cream. Potatoes Romanoff – A Fancy Twice Baked Potato. I'm totally ready for fall.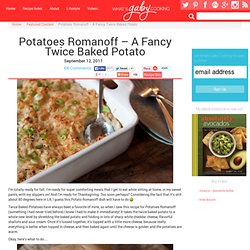 I'm ready for super comforting meals that I get to eat while sitting at home, in my sweat pants, with my slippers on! And I'm ready for Thanksgiving. Too soon perhaps? Considering the fact that it's still about 80 degrees here in LA, I guess this Potato Romanoff dish will have to do Twice Baked Potatoes have always been a favorite of mine, so when I saw this recipe for Potatoes Romanoff (something I had never tried before) I knew I had to make it immediately! French Fries: The No-Guilt Version. There's nothing like a french fried potato.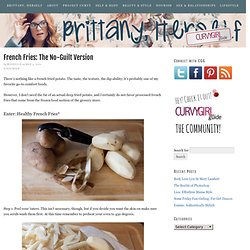 The taste, the texture, the dip-ability; it's probably one of my favorite go-to comfort foods. However, I don't need the fat of an actual deep fried potato, and I certainly do not favor processed french fries that come from the frozen food section of the grocery store. Enter: Healthy French Fries* Parmesan Roasted Potatoes. Ok fine.
I'm officially ready to make the transition to fall. And I thought, what better way to do it than with my all time favorite Parmesan Roasted Potatoes! These are like candy. 100% addictive. Crispy Potato Roast Recipe. Hey Guys!
So…it's still really hot out…wtf! I'm totally ready for fall…forget this, "I just don't want summer to end" BS…I'm OVER IT! Okay, I apologize for being aggressive right there, but man does this weather make me grumpy.
---