Bento
2010-11-16 Turkey bagel
Classic | Adventures in Bentomaking
Japanese style "Hamburg" made with a Turkey burger patty and homemade Katsu sauce; Pan fried Zucchini; Vegetable Fried Rice with brown basmati, onion, green onion, garlic, carrot, green beans, salt and pepper. You can make a low fat "Hamburg" with a pre-made turkey burger patty. Cut the patty in half, then re-shaped each half into a mini-burger. Sear one side on a frying pan and coat the other side with Katsu sauce. When you flip the patty over, coat the seared side with Katsu sauce.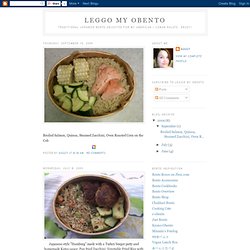 Leggo My Obento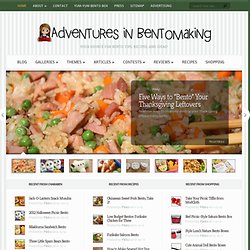 VIDEO: How to Make a Star Pizza Bento Watch a video on how to make a star pizza bento with leftover pizza! Read More Easter Bento Demo Tomorrow at Celebrations Tomorrow I will be at the Celebrations store in Mapunapuna (next to Ben Franklin) to do an Easter bento demonstration. Hearty Valentine's Day Sandwiches Bento with FunBites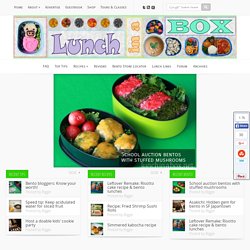 Because I'm not my son's personal short-order cook, I love to use dinner leftovers in our bento lunches to minimize prep time. But eating the exact same thing for multiple meals can get boring pretty quickly, so finding new ways to quickly transform leftovers into different dishes is always welcome. Today I've got a simple Leftover Remake recipe for pan-fried risotto cakes.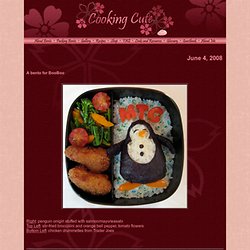 It's been about time, eh? Life as a new mom can get pretty hectic, especially when you're working full-time as well. I was home unexpectedly today with the Boo, so I put together a bento with what I had on hand while he napped. Man, I am rusty!
Cooking Cute: a bento site
This just a short update on what is going on with my health and things. The good news is that I am feeling a bit better on an everyday basis. The really bad, painful infection I had has finally (mostly) cleared up, so I'm not reliant on heavy duty painkillers anymore. The bad news is that, my actual health condition is a bit worse than the infection. Which means that I'm going to have to start a course of radiation therapy again.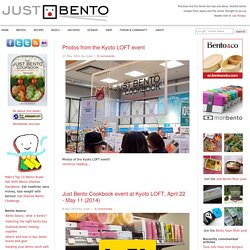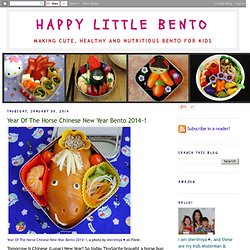 I have some exciting news (well, for me): I got a brand new bento box set, and it's a very cool one! This tiffin-style set is made of high-quality, food-grade stainless steel and features three interlocking round tiers that fit one on top of another. They all clip together with two latches that are easy to fasten. When the set is clipped together, it stays together tightly with no chance of accidentally opening. There are no gaskets, so I wouldn't recommend sauces or liquids, but I have not experienced any leakage during the past month I've been using this set with "dryish" foods like the bento I show above. I packed duck fried rice for MisterMan in the lower tier: rice, with a fried egg mixed in, and sliced chopped roast duck, steamed bok choy, and chopped scallions.