QR Codes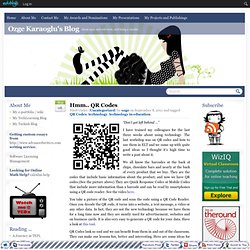 Hmm.. QR Codes
"Don't get left behind …" I have trained my colleagues for the last three weeks about using technology. The last workshop was on QR codes and how to use them in ELT and we came up with quite good ideas so I thought it's high time to write a post about it.
QR Codes Quick Response are so fun to integrate in classroom. Quick Response codes are bar codes with information. QR Codes can include contact information, websites, text, SMS, pictures and so much more. My students absolutely love using these in their activities. Here are some ways to Integrate QR Codes in Your Lessons 1.
As mobile learning and technology is more readily integrated within classroom settings, QR codes can be used as an interesting method to capture a student's attention and make lesson material more interactive. Quick response codes, also known as 'QR' codes, are simple, scannable images that are a form of barcode. By scanning a QR code image through a mobile device, information can be accessed including text, links, bookmarks and email addresses. In the classroom, QR codes can be used in a variety of ways -- from conducting treasure hunts to creating modern CVs.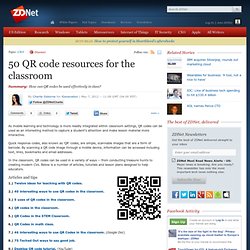 Please Note: Will only work on iPhone and Android devices that have the Skype app installed. 0 chars (max 160) Select your Contact Details QR code type: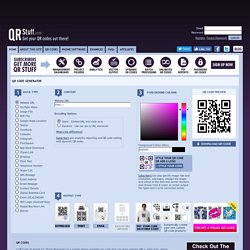 QR Invasion - "Q"ing into codes for the classroom by Naomi Bates on Prezi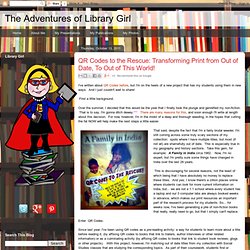 I've written about QR Codes before, but I'm on the heels of a new project that has my students using them in new ways. And I just couldn't wait to share! First a little background.
QR Codes to the Rescue: Transforming Print from Out of Date, To Out of This World!
From Tech Trend to Teaching Tool: Taking the QR Code Plunge!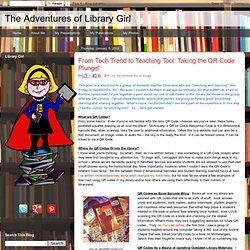 This post is a shout out to a group of fantastic teacher librarians who are "lunching and learning" this Friday in Fayetteville, NC. Because I couldn't be there in person (or virtually, for that matter) to share in the fun, I promised I'd put together a post about my use of QR Codes in the library for those in the group who are QR curious. I know these fantastic ladies (and gents!) are going to have a great time today learning and sharing together.
My school does not allow students to use cell phones in the classroom. I don't agree with this policy, but rules are rules. However, assigning homework outside the classroom will allow your kids to learn a new way to use their smartphones, since texting seems to be the only thing they love to do. In June 2011, I did a post explaining QR Codes. With this post, I have put together a large listing which includes lesson ideas, QR apps for smartphones and QR code generators. Best part of all?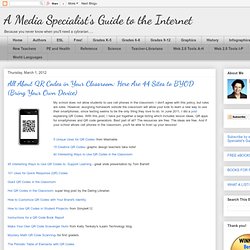 All About QR Codes in Your Classroom: Here Are 44 Sites to BYOD (Bring Your Own Device)
QR codes in education
QR Codes Rock the Library on Your Phone