Graphic-video design
Bruce SterlingJuly 21, 2011 Marx said that men make their own history—but men don't get to select the circumstances in which history is made. That's what it's like to be a "generative artist"—you have the productive capacity to generate incredible profusions of artistic material. Primeval amounts of weird beauty, volcanic gushes of awesome sight and sound.
Generator Everything | SF360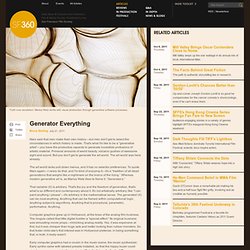 Better Nouveau — than never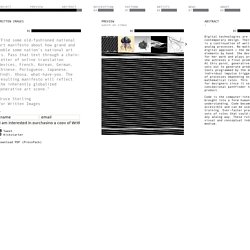 writtenimages.net
A generative book that presents programmed images by various artists. Each print in process will be calculated individually – which makes every single book unique. Artists, designers and developers are encouraged to program image creating applications, which will be published as four-page spreads in the book. These programs visualize internet data-streams or display self-generated content.
This arti­cle is for web design­ers and front-end web devel­op­ers who are inter­ested in grid-based lay­out sys­tems but are at a loss on how to decipher them. 04.Mar.2012 A PDF writ­ten by Andrew Maher to help you design grids and to give you the resources to delve fur­ther into the grid world. Mark Boul­ton pulls together some of his thoughts and con­cerns regard­ing CSS grids and how they could (or, maybe, should) be created.