Mobile marketing & technology
Using AppYet, anyone can create a professional Android app. There's no programming knowledge required, only take few minutes to build your first app. All you need to provide is links to Rss/Atom feed or website, they are automatically converted into stunning 100% pure native apps for Android. You have freedom to list/sell app on Google Play and many other Android Markets. Earn Ad money with embeded Ad or get thousand of installations bring new constant visitors to your website Create your first app now, fast, free and shockingly easy!
AppYet - App Creator | Create Android App FREE!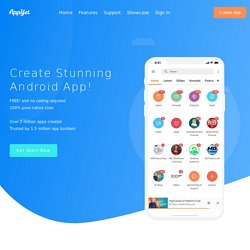 Deliver SMS directly to your contacts or schedule your own date and time of the shipment (shipment delayed). Personalize the message sender (SenderID), indicating the name of your company or brand that you market. With acknowledgments, you can follow the progress of each SMS and make sure they are well reached their destination. Our offers shipping is international with more than 200 countries and 600 networks are served.
Send bulk SMS, professional SMS marketing, SMS Gateway - SMSWay Worldwide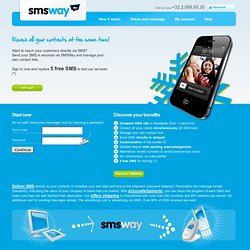 44 Useful Mobile Apps for Social Media Marketers
Kuapay
J'ai testé pour vous… « Romain's blog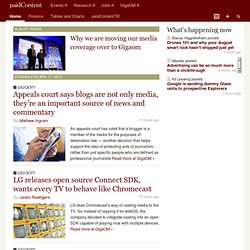 Stories for Jan. 13, 2014 Google just made another major acquisition — clean tech and home device star Nest Labs. The $3.2 billion purchase of former Apple executive Tony Fadell's new company comes at a time the search giant is expanding its activities in science, robotics and energy. Read more at GigaOM »
Rhythm NewMedia | The Largest Mobile Video Ad Network | Monetize Mobile Apps and Websites
Top Mobile Phones Applications: Find Popular & New Mobile Web Apps at Mobclix
AppsMarketing Blog
Scan this and post something! What Is Stickybits?
Les campagnes interactives : toute l'actualité de l'application U snap by JCDecaux
Dans la plupart des grandes villes de France Quick – Une petite faim ? Découvrez toutes les infos sur Quick, trouvez le restaurant le plus proche et venez tenter votre chance au grand jeu du moment : THIS IS THE GAME ! Chanel – Téléchargez gratuitement l'application Chanel, découvrez toute la gamme de produits Coco Mademoiselle et trouvez la boutique la plus proche pour venir en profiter !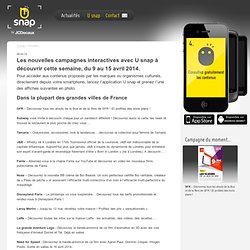 Mobile Marketer - The news leader in mobile marketing, media and commerce
marketing-mobile.fr