Home Ideas
desire to inspire - desiretoinspire.net - Straight into my inspiration folder
Photos du journal
Awesome Wine Cellar
Photos du journal
139611657168402261_kyuMvCUq.jpg (JPEG Image, 471 × 650 pixels)
13 Super Secret Stair Storage Ideas | Apartment Therapy - StumbleUpon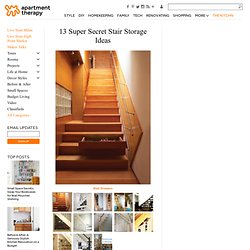 Underneath the stairs lies a great abyss known as unused space in most homes. Check out this list of 13 inspirational ideas to kick-start how to use your stairs, steps, and angles to your best small space advantage! In no particular order, here are our favorite 13 ways to efficiently use your staircase space: Stair Drawers : When you think about it, directly underneath your steps are layers of unused space. So why not add functionality to those common rectangles by transforming them into drawers?
Design Soak is a site authored by Andrew Kelsall , a Creative Designer from England, UK. Join 72K+ People who receive updates via RSS , Free Email Subscription and Twitter . Also, follow me on Google+ .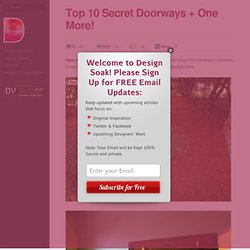 No, really: would you want to design, build and live in an real fantasy tree house all year round? More and more people have decided to do just that and where treehouses were once novelty architecture for kids they are now (almost) mainstream structures, as attested to by the pictures above via Bella Seven . Many modern tree house designs and home designers and custom builders take a site-specific approach and construct their tree buildings around not only views and rooms but also have to account for access and structural support in unique and novel ways. Some of the results are little auxiliary spaces intended for guests or vacations while others are fully developed tree homes with everything need for daily living.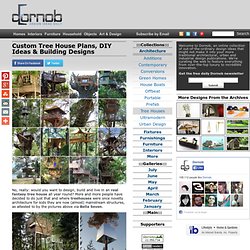 You are looking at pictures of a house I built for our family in Wales. It was built by myself and my father in law with help from passers by and visiting friends. 4 months after starting we were moved in and cosy. I estimate 1000-1500 man hours and £3000 put in to this point. Not really so much in house buying terms (roughly £60/sq m excluding labour). The house was built with maximum regard for the environment and by reciprocation gives us a unique opportunity to live close to nature.