Data
DATA visualisation. Twitter Visualisations. Data VisualizationTutorials. KDMC produces a wealth of digital media tutorials to support our training sessions and classes.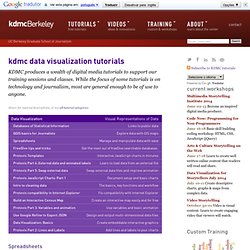 While the focus of some tutorials is on technology and journalism, most are general enough to be of use to anyone. Spreadsheets Updated March 11, 2012 in Data Visualization This tutorial covers the basics of creating and doing calculations with a spreadsheet. It is based on using Google Docs spreadsheets, with notes on some differences with Excel spreadsheets. We Feel Fine / by Jonathan Harris and Sep Kamvar. Smiley installation shows the mood of a city.
Project Stimmungsgasometer (say what?)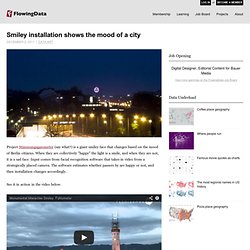 Is a giant smiley face that changes based on the mood of Berlin citizens. When they are collectively "happy" the light is a smile, and when they are not, it is a sad face. Input comes from facial recognition software that takes in video from a strategically placed camera. The software estimates whether passers by are happy or not, and then installation changes accordingly. See it in action in the video below. With mobile tech, mapping a city's emotions, memories. PHILADELPHIA -- What can technologies do for us to help us understand what's going on in the city?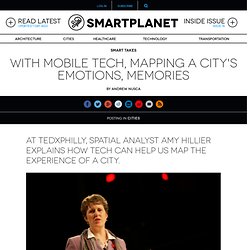 University of Pennsylvania urban planning professor Amy Hillier took to the stage here at the second annual TEDxPhilly conference on Tuesday to demonstrate how technology could one day help us look beyond statistics to visualize the very experience of a city. "Could we map emotion? Sensity V & A by Stanza. (www.stanza.co.uk). Sensing the city and the environment to make art. The results are the visualisation and sonification of real time spaces.
Data visualizing the story of food and emotion. Charting emotions. One of the emerging themes from our research is the notion of the "highly-instrumented" enterprise environment.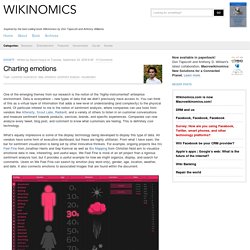 Data is everywhere – new types of data that we didn't previously have access to. You can think of this as a virtual layer of information that adds a new level of understanding (and complexity) to the physical world. Emotional Cartography: Implications of Visualizing Intimate Biometric Data. The (44MB freely downloadable) book Emotional Cartography - Technologies of the Self [emotionalcartography.net] is a collection of essays from artists, designers, psycho-geographers, cultural researchers, futurologists and neuroscientists, brought together by Christian Nold, to explore the political, social and cultural implications of visualizing intimate biometric data and emotional experiences using technology.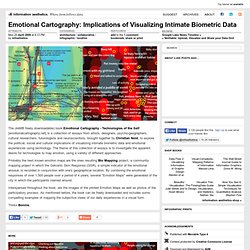 The theme of this collection of essays is to investigate the apparent desire for technologies to map emotion, using a variety of different approaches. Probably the best known emotion maps are the ones resulting Bio Mapping project, a community mapping project in which the Galvanic Skin Response (GSR), a simple indicator of the emotional arousal, is recorded in conjunction with one's geographical location. By combining the emotional responses of over 1,500 people over a period of 4 years, several "Emotion Maps" were generated of the city in which the participants roamed around. FlowingData | Data Visualization, Infographics, and Statistics.
---