Electronica
Blog » Blog Archive » Python meets arduino
A continuación te presento un excelente curso de electrónica básica en videos, creados por Alejandro Méndez. Altamente recomendables si tienes un precario conocimiento de electrónica. Resistencias: En estos videos se explica el comportamiento de uno de los componentes pasivos más utilizados en electrónica.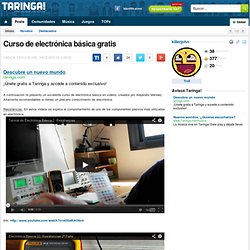 (+99) Curso de electrónica básica gratis
By Publicado:febrero 1, 2012Publicado en: CienciaTags: cuadrópteros, inteligencia, robots Si alguna vez pensaron que el futuro estaba lejos y que nunca veríamos enjambres de robots pequeños que volaran en equipo mientras hacían formaciones extrañas, creo que tendrán que pensarlo dos veces. investigadores de la Universidad de Pennsylvania en el laboratorio GRASP, han estado haciendo experimentos con estos cuadrópteros desarrollados por KMel Robotics. Los vehículos haceen varias formaciones, trabajan en conjunto e incluso se posicionan con respecto a otros en un entorno 3D.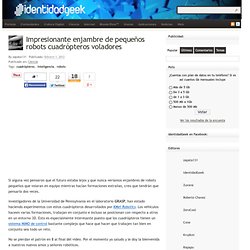 Impresionante enjambre de pequeños robots cuadrópteros voladores
ComoHacer.eu | ¿Inventamos juntos?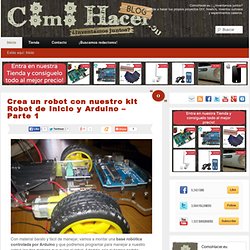 El tubo de extracción de humedad y el sensor exterior En este tutorial explicaremos cómo deshumidificar un local en dos fases; primero detallaremos la preparación y programación de la placa Arduino con la que, mediante un relé y dos sensores DHT11 económicos, controlaremos un pequeño ventilador que hará todo el trabajo, comprobando temperaturas y humedades. Seguidamente, en una segunda entrada, nos mancharemos las manos perforando la pared y colocando un tubo de PVC con el ventilador conectado al Arduino para extraer el aire más frío y húmedo del local de la parte baja, además de colocar los sensores de humedad y la caja con Arduino, alimentación, etc.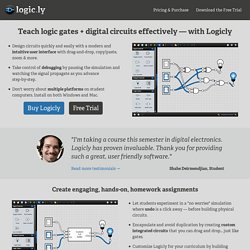 Drag Drop & Create Build and simulate basic logic circuits with just a few mouse clicks. Drag components into the editor. Then draw connections between them. It's easy to zoom, pan, and rotate too.
s blog