Hair
Try this romantic look for prom or date night! Apply a curl-enhancing cream to damp hair to define your ringlets. (Avoid your roots, so hair doesn't get too heavy.)
Hair Ideas for Prom - Prom Hair Tips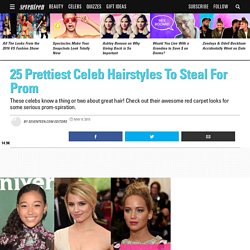 D I Y on we heart it / visual bookmark #19747021
photo: justin coit for thebeautydepartment.com post designed by kristin ess Our email box is literally flooded with requests for updos so here's a fun one to get us all going! This is always a favorite for attending an event. This updo looks gorgeous on any hair color but particularly amazing with hilighted hair because it gives the hair lots of depth and dimension.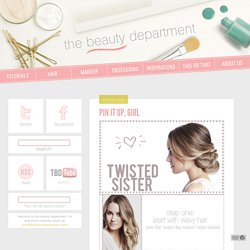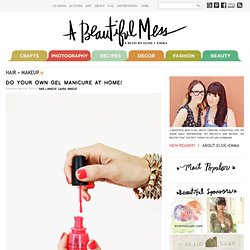 It's my turn to share my everyday styling routine! Ready, set, go... I'm not a fan of owning tons of makeup. This past year I cleaned out my collection, keeping only essential items that I use every day. Now everything I need easily fits into my little travel bag. My routine consists of products and techniques that I have found over time.
A Beautiful Mess: HAIR + MAKEUP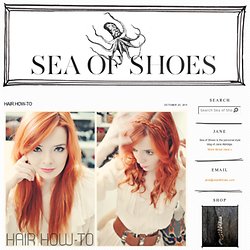 I am sometimes asked how I style my hair, and while my method is far from perfect, I thought I'd show you how! My hair is pretty straight and fine naturally and I always let it air dry. Since I go about three days between washes, I like to curl it on the first day and let it mellow out into some nice waves over the next two.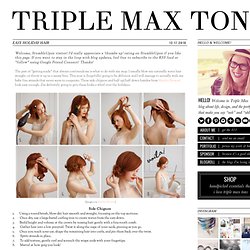 Side Chignon 1. Using a round brush, blow-dry hair smooth and straight, focusing on the top sections. 2. Once dry, use a large-barrel curling iron to create waves from the ears down. 3.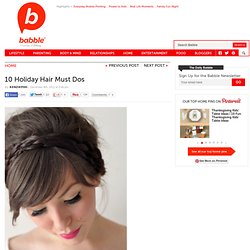 Are you in need of some hair inspiration for all your holiday happenings this year? A lot of us go all out with sparkles, high heels, and deep red lipstick. Why not try and complete your look with the perfect Holiday Hair too! We have found 10 beautiful Holiday Hair Must Dos for you to find inspiration from! Keep reading after the jump to view our 10 Holiday Hair Must Dos! Braided Do
photos by: Kathleen Bly post designed by kristin ess Mad love for our first guest post winner, Taylor Nick !!! I am fully obsessed with this bohemian-inspired-braided-goodness! Even though Taylor had some SERIOUS competition, there's no doubt that this little lady took the cake in our hair tutorial contest. She created a beautiful, textured, easy hairstyle that will work with almost any hair type.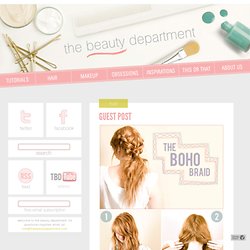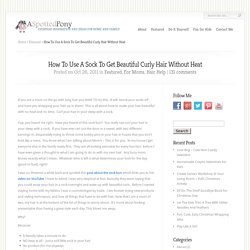 If you are a mom on the go with long hair you HAVE TO try this. It will knock your socks off and have you wrapping your hair up in them! This is all about how to make your hair beautiful with no heat and no time. Curl your hair in your sleep with a sock. Yup, you heard me right. Have you heard of this sock bun?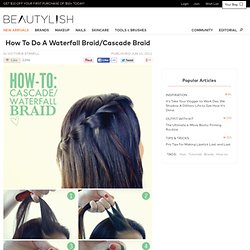 The cascade braid recently exploded as the new "trend braid" of the season. The waterfall effect looks cool and complex, but it's easier to style than you think. Give this beautiful braid a try when Beautylish takes you through the how-to! Section Off This style works best on straight or loose waves.