Entrepeneur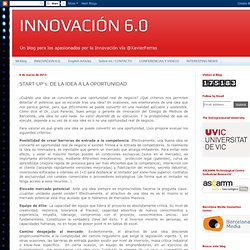 INNOVACIÓN 6.0: START-UP's: DE LA IDEA A LA OPORTUNIDAD
¿Cuándo una idea se convierte en una oportunidad real de negocio? ¿Qué criterios nos permiten detectar el potencial que se esconde tras una idea? En ocasiones, nos enamoramos de una idea que nos parece genial, pero que difícilmente se puede convertir en una realidad aplicable y sostenible. Como dice el Dr.
Con WhatsApp tenemos una paradoja interesante. Se trata de un servicio que ha convertido un negocio de miles de millones de dólares al año (la mensajería SMS) en otro mucho más pequeño en el que usuario paga menos de un euro al año (y a veces ni eso) por una tarifa plana de mensajes de texto, vídeos y fotos. Y, a pesar de ello, es con toda probabilidad la compañía más vibrante, imitada y deseada en el terreno de las aplicaciones móviles y el "over the top".
Por qué todo el mundo quiere ser Whatsapp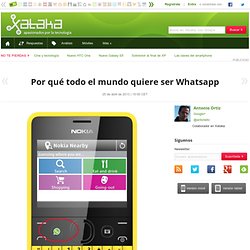 Mexico: The Sleeping Giant
10 errores que no deben cometer las Startups
En los inicios de tu startup, te enfrentarás a muchas dificultades y en el camino para resolverlas, puede que cometas algunos errores, que aunque sean pequeños te pueden traer serias consecuencias. Es por eso que como emprendedor, debes ser precavido y no tomar decisiones apresuradas en lo que se refiere a tu negocio. A continuación te damos los tips para que estés alerta y no caigas en trampas. 1. Iniciar la empresa en solitarioSi decides iniciar un proyecto solo, lo más seguro es que te sea más difícil hacerlo crecer, porque no contarás con suficientes recursos económicos ni con apoyo externo para potenciarlo. Lo más aconsejable es que comiences con un pequeño equipo o con un socio que te ayude gestionar las tareas administrativas y financieras, que son las más complejas.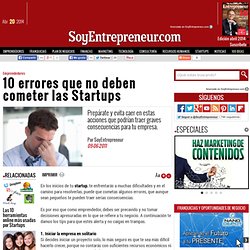 4 Key Things Great Strategic Thinkers Do
Startup Weekend México – SWMX SoSummit 2013 on Vimeo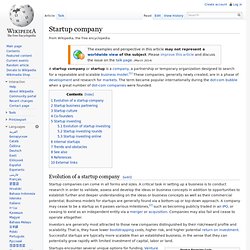 A startup company or startup is a company, a partnership or temporary organization designed to search for a repeatable and scalable business model.[1] These companies, generally newly created, are in a phase of development and research for markets. The term became popular internationally during the dot-com bubble when a great number of dot-com companies were founded. Evolution of a startup company[edit]
Cuando la inspiración llega, no hay quien la pare. Prácticamente todos hemos tenido una idea para crear "el mejor producto" que le haya pasado a la humanidad: pensamos que con sólo inventarlo será tan bueno que nuestro producto se va a vender solo, imaginamos la gente haciendo fila afuera de las tiendas para comprarlo, pensamos en nuestro rostro en la portada de las revistas de negocios y nuestra cartera llena del buen dinero de clientes satisfechos. Sí, todos somos culpables de haber pensado así en algún momento. Con el tiempo te das cuenta que la inspiración no lo es todo: una buena idea por sí sola no basta. Vamos a hacer un pequeño cuestionario antes de seguir: -¿Tienes muchas y grandes ideas para nuevos negocios?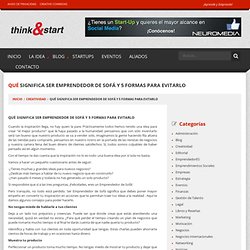 Qué significa ser Emprendedor de Sofá y 5 formas para evitarlo | Think&Start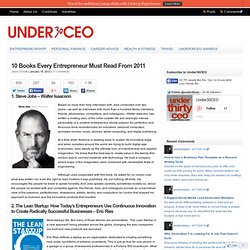 10 Books Every Entrepreneur Must Read From 2011
1. Steve Jobs – Walter Isaacson Based on more than forty interviews with Jobs conducted over two years—as well as interviews with more than a hundred family members, friends, adversaries, competitors, and colleagues—Walter Isaacson has written a riveting story of the roller-coaster life and searingly intense personality of a creative entrepreneur whose passion for perfection and ferocious drive revolutionized six industries: personal computers, animated movies, music, phones, tablet computing, and digital publishing.
Today, we are announcing that we are going to put Startup Exchange Program on hold, for an unlimited time. This was of course a difficult decision, but a necessary one and we decided to use this opportunity to share some of the lessons we learned in the past 2 editions of the program. Startup Exchange Program was born in late 2011 but the first program only took place in 2012. The idea was simple, we wanted to help all those startups that are growing and want to expand to new markets. We felt this was a critical problem mainly in Europe where the countries/markets are very different from each other: the languages are different, the consumer habits are also very different and dealing with the bureaucracy in all these countries can be a huge nightmare.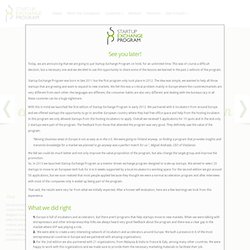 Startup eXchange Program - enhancing opportunities for startups in foreign markets
Que es BOMBA - bombacamp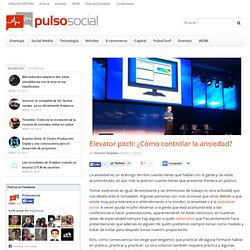 La ansiedad es un enemigo terrible cuando tienes que hablar con la gente y no estás acostumbrado, es aún más la presión cuando tienes que presentar frente a un público. Tomar exámenes es igual de estresante y las entrevistas de trabajo es otra actividad que nos delata ante el reclutador. Algunas personas son más ansiosas que otras debido a que existe muy poca tolerancia o entendimiento a la timidez, la ansiedad o a la evaluación social. A veces ayuda mucho observar a la gente que está acostumbrada a dar conferencias o hacer presentaciones, aparentemente no están nerviosos, en nuestras áreas de especialidad siempre hay alguien a quién admiramos que frecuentemente hace presentaciones que además es alguien de quién podremos siempre tomar como modelo y tratar de imitar para después tomar nuestro propio estilo.
El pitch, cómo controlar la ansiedad
Analogía entre las rondas de inversión de Startups y un Esquema Ponzi, ¿es válida? ¿cómo mejorar las prácticas de fondeo de startups? - sergio romo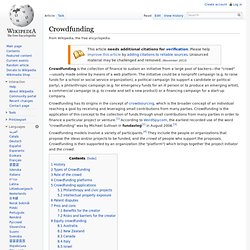 Crowdfunding is the collection of finance to sustain an initiative from a large pool of backers—the "crowd"—usually made online by means of a web platform. The initiative could be a nonprofit campaign (e.g. to raise funds for a school or social service organization), a political campaign (to support a candidate or political party), a philanthropic campaign (e.g. for emergency funds for an ill person or to produce an emerging artist), a commercial campaign (e.g. to create and sell a new product) or a financing campaign for a start-up company. Crowdfunding has its origins in the concept of crowdsourcing, which is the broader concept of an individual reaching a goal by receiving and leveraging small contributions from many parties.
Crowd funding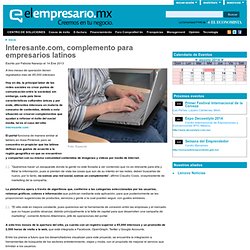 Escrito por Fabiola Naranjo el 14 Ene 2013 Foto: Especial A tres meses de operación tienen registrados más de 85,000 intereses Hoy en día, la principal labor de las redes sociales es crear puntos de comunicación entre la sociedad, sin embargo, cada país tiene características culturales únicas y por ende, diferentes intereses en materia de consumo de contenidos, debido a esta situación se crearon complementos que ayudan a reforzar el éxito del social media, tal es el caso del sitio Interesante.com El portal funciona de manera similar al tablero en línea Pinterest, pero se concentra en propiciar que los latinos definan sus gustos de acuerdo a la región geográfica en que se encuentren y compartan con su misma comunidad contenidos de imágenes y videos por medio de Internet.
Interesante.com, complemento para empresarios latinos
The Future of Corporate Innovation and Entrepreneurship
Almost every large company understands it needs to build an organization that deals with the ever-increasing external forces of continuous disruption, the need for continuous innovation, globalization and regulation. But there is no standard strategy and structure for creating corporate innovation. We outline the strategy problem in this post and will propose some specific organizational suggestions in follow-on posts. I'm sitting at the ranch with Alexander Osterwalder, Henry Chesbrough and Andre Marquis listening to them recount their lessons-learned consulting for some of the world's largest corporations.
19 consejos de un millonario para mejorar tu vida ~ Jose Luis Naranjo N.
Me encontré con algunos consejos que Donald Trump da en un documento titulado "Los Consejos De Donald Trump Para Los Emprendedores", me tomo el atrevimiento de tomar cada una de las sugerencias y parafrasearlas para mi, primeramente y luego de preguntar ¿será que esto púede ser útil para alguien más?, por que de la encuesta que me han llenado varias personas, los problemas que yo tengo en mi negocio, son los problemas que tienen otros en sus negocios, luego estoy totalmente seguro que a muchos nos puede servir estos consejos, así que decidí no quedarme con ellos solo yo, sino compartirlos para aquellos que están en el mismo camino que estoy yo, y si estos consejos nos dan un empujón hacia lo que buscamos bien, por ellos. De Donald Trump se dice muchas cosas buenas y muchas cosas malas es cierto... pero que tiene consejos muy interesantes y que si pueden guiarnos, también es cierto Dicen que para ser millonario, hay que escuchar a los millonarios así que allí nos va:
Emprender es una actividad de alto riesgo que requiere de todos nuestros sentidos para llegar al éxito, y no tenemos tiempo para obsesionarnos por unos cuantos números que podrían distraernos de nuestra meta, ¿no?. Pues no, nada más lejos de la realidad. Porque sin esos "numeritos"… ¿en base a qué vamos a tomar decisiones?
El embudo de relación, la métrica más importante para tu startup
A great article on Wired Magazine, May 2013 on the hot topic of the Internet of things, WELCOME TO THE PROGRAMMABLE WORLD. It starts with an introduction to a vision on what to expect when all these sensors are around us: In our houses, cars, and factories, we're surrounded by tiny, intelligent devices that capture data about how we live and what we do.
Cdr Blog: digital convergence, business strategy, innovation
Top 15 or so books for web / mobile technology entrepreneurs | Selleo BlogSelleo Blog
Steve Blank, Serial Entrepreneur - Rethinking the Product Development Process
Startups
CLM, una poderosa herramienta de marketing
Liquidity hacking: Solving the chicken-egg dilemma with marketplace startups
Growth Capitalism: Venture Capital in Mexico, Viva La Revolución
Social Media Revolution 2013 Subtitulado HD
Be a Force of Good | The personal blog of Mukund Mohan
Startup documents | Be a Force of Good
6 TED Talks Entrepreneurs Must Watch
Startups Find Fertile Ground For Explosive Growth In Latin America
How A 17-Year-Old In India Bootstrapped To $7M In Revenue
Why Startup Founders are Always Unhappy — jessblog
Startup School - Brian Chesky of AirBnB
What Goes Wrong - Founders at Work
The 7 Deadly Sales Sins Committed By Startups
Great Leadership
Shifting your leadership as your company outgrows the startup phase
GUÍA PARA EMPRENDEDORES PRINCIPIANTES | ADREDE
The Challenge of Business Model Innovation
Dr K Photography
Nueve empresas mexicanas se integran a la familia de 500 Startups a través de Mexican.VC | SG Buzz
80 cuentas de los Emprendedores más influyentes en Twitter que deberías seguir
¿En qué favorecen las neuronas espejo al marketing?
#MxDisrupt
Customer Experience Should Be Part of Your Business - Harley Manning
Achieve Product-Market Fit with our Brand-New Value Proposition Designer
Why Your Idea Isn't Worth Anything | Inc. 5000
Ideando productos innovadores | México Innova
Diferentes tipos de publicidad en internet ~ Un Negocio Online
Introducción a la Neurosicoeducación - Dr. Nse. Carlos Logatt Grabner - Neurociencias
Taller Neuromarketing - Parte I - Dr. Carlos Logatt Grabner - Neurociencias
Founder Institute Colombia - Juan Fernando Giraldo - Enkuestame!
TECHNOCOATING - Nuestros Productos
Los 8 principales motivos de compra: parte I
The Lean Startup - by Eric Ries (Video+MP3(64 Kbps)+PPT)
Momentum Design Lab – San Francisco Bay Area User Interface Design Firm
Little Pickle Press: Big Ideas for Young Readers
Los 7 spots más emotivos de los Juegos Olímpicos 2012 | MERCADOTECNIA MARKETING PUBLICIDAD | Revista Merca2.0
EarlyAdopters.mx
investoMex - Home
A blog about productivity for the Internet entrepreneur. — My goal is to help you focus on your passions by reducing or eliminating the time needed to maintain your life.
SeedProgram.mx
¿Por qué Reddit ha tenido éxito donde Digg fracasó?
Management Conference 2012 | University of Chicago Booth School of Business
Lo que aprender del offline para triunfar en las Redes sociales
Las 10 cosas que los inversionistas buscan en un 'startup'
¡5 tips para convertir tu marca en una experiencia! | Yo Soy Pyme
Hernán Botbol de Taringa: "Queremos ser el YouTube de la Música" [FW Interviú]