Videos
Cats in Tanks. Movie Guide | Anime Movie Guide. Movie Count: 63 Do you have feedback, questions, movie suggestions or review copy offers?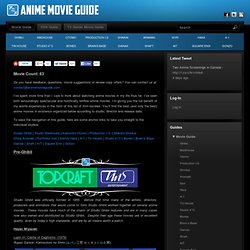 You can contact us at contact@animemovieguide.com *protected email* I've spent more time than I care to think about watching anime movies in my life thus far.
Meet the sloths. Video Particle Player - UnitZeroOne. Philip Zimbardo: The Secret Powers of Time (Animated) Bio Philip Zimbardo Philip Zimbardo is internationally recognized as a leading "voice and face of contemporary psychology" through his widely seen PBS-TV series, "Discovering Psychology," his media appearances, best-selling trade books on shyness, and his classic research, The Stanford Prison Experiment.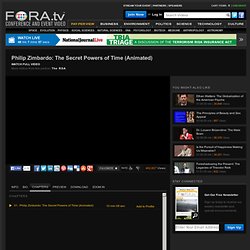 Zimbardo has been a Stanford University professor since 1968 (now an Emeritus Professor), having taught previously at Yale, NYU, and Columbia University. He continues teaching graduate students at the Pacific Graduate School of Psychology, and at the Naval Post Graduate School (Monterey). PIXELS by PATRICK JEAN. - une vidéo Art et Création. Filmography 2010: 270 movies mixed into one 6 min video. Neurosonics Audiomedical Labs Inc. AC's Top 20 Anime of the Decade » Behind The Nihon Review. This has been a decade of mixed reactions for some people.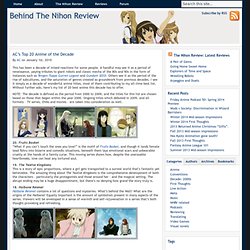 A handful may see it as a period of renaissance, paying tributes to giant robots and classic mecha of the 80s and 90s in the form of instances such as Tengen-Toppa Gurren Lagann and Gundam SEED. Others see it as the period of the rise of subcultures, and the saturation of genres created as groundwork from previous decades. I see it simply as a decade of wonderful anime titles, most of them contributing to my all-time best list.
Without further ado, here's my list of 20 best anime this decade has to offer. NOTE: The decade is defined as the period from 2000 to 2009, and the titles for this list are chosen based on those that began within the year 2000. Inspiring Creative Process Videos.
---