Resources from CEP 416
TPACK 101 on Vimeo
Wiki ideas appropriate for most subjects and grade levels: Study guides made by student groups for themselves and peers: each group prepares the guide for one aspect of the unit or responsibility rotates: one unit guide per semester. Vocabulary lists and examples of the words in use, contributed by students (ongoing throughout the year).
Wiki Walk-Through
" It's a way our clients can get to know us and see our culture without physically visiting the store. I couldn't believe I got the site up and running over one weekend." " I have been an entrepreneur for many, years, but suddenly my art licensing is really coming together and I need to have a simple, bold statement about my art. My Weebly site fits that vision for me." " It surprised me how quick it was to put the site together.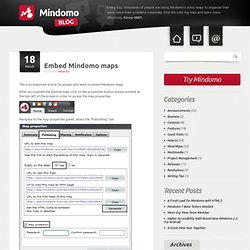 This is an important article for people who want to embed Mindomo maps. After you opened the desired map, click on the properties button always present at the top left of the screen in order to access the map properties. Navigate to the map properties panel, select the "Publishing" tab.
Blog: Embed Mindomo maps
Get Creative!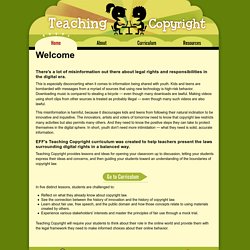 There's a lot of misinformation out there about legal rights and responsibilities in the digital era. This is especially disconcerting when it comes to information being shared with youth. Kids and teens are bombarded with messages from a myriad of sources that using new technology is high-risk behavior. Downloading music is compared to stealing a bicycle — even though many downloads are lawful. Making videos using short clips from other sources is treated as probably illegal — even though many such videos are also lawful. This misinformation is harmful, because it discourages kids and teens from following their natural inclination to be innovative and inquisitive.
Want to let people share and use your photographs, but not allow companies to sell them?Looking for access to course materials from the world's top universities?Want to encourage readers to re-publish your blog posts, as long as they give you credit?Looking for songs that you can use and remix, royalty-free? If you answered yes to any of the questions above, then you should learn more about Creative Commons. Probably the quickest and easiest introduction to CC is to watch the following short video: