Life
27 Things I've Learned in 27 Years | Choose Thinking: A Blog by Dan Gilbert
How to Be Yourself: 10 Helpful Tips
9 Signs That You Might Be Selfish
If you're new here, you may want to subscribe to my RSS feed. You also might want to read this manifesto. Thanks for visiting! I've been thinking about the meaning of the word "selfish" for a while, ever since various people hurled that insult my way.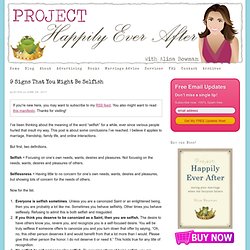 A recent study published in an American Psychological Association journal, Emotion, suggests that early birds are generally happier than night owls. More than 700 respondents, ranging from ages 17 to 79, were surveyed and asked about their emotional state, health, and preferred time of day. Self-professed "morning people" reported feeling happier and healthier than night owls. Researchers hypothesize that one of the reasons could be because society caters to a morning person's schedule. It's certainly true that the working world does. Working "9-to-5" is more than an expression, but a standard shift for many Americans.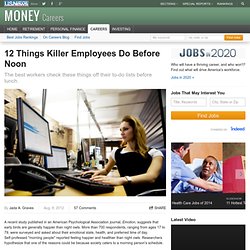 13 Things You Can Do Right Now to Avoid a Lifetime of Regrets | Vivid Ways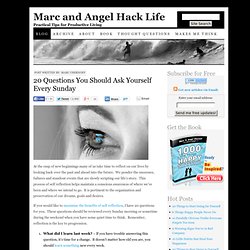 post written by: Marc Chernoff Email At the cusp of new beginnings many of us take time to reflect on our lives by looking back over the past and ahead into the future. We ponder the successes, failures and standout events that are slowly scripting our life's story. This process of self reflection helps maintain a conscious awareness of where we've been and where we intend to go.
25 Beautifully Illustrated Thought-Provoking Questions
The No-Resolution Resolution: How to Really Be Happy in 2012 - Lifestyle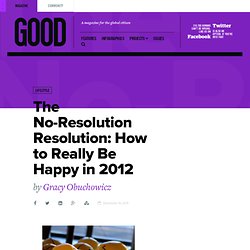 In mid-December, I celebrated my 30th birthday at a little Scandanavian restaurant in a quickly-changing part of DC. I was surrounded by great artwork, brightly colored vats of aquavit, and the people I loved most. Throughout the cocktails and the courses of heavy winter food, I kept looking around to marvel at all I have to appreciate in my life. Professionally, I am a decently busy photographer and yoga teacher. I just marked a year and half with my boyfriend (we're an OKCupid success story). I have lovely friends and a great home and opportunities to travel.
If you haven't been living under a rock for the last 30 years I'm pretty sure you know who Bruce Lee was. If you have, then you may be interested to know that Lee was a very famous martial artist and actor who sparked the first big interest of Chinese martial arts in the West in the 60's and 70's. But besides being an awesome fighter and iconic figure Lee also had some very useful things to say about life. Here are 7 of my favourite fundamentals from Bruce Lee.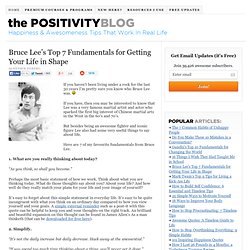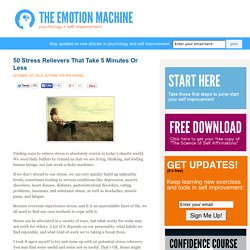 Finding ways to relieve stress is absolutely crucial in today's chaotic world. We need daily buffers to remind us that we are living, thinking, and feeling human beings, not just work-a-holic machines. If we don't attend to our stress, we can very quickly build up unhealthy levels, sometimes leading to serious conditions like depression, anxiety disorders, heart disease, diabetes, gastrointestinal disorders, eating problems, insomnia, and substance abuse, as well as headaches, muscle pains, and fatigue.
What would you like to improve about yourself? Although we may not want to admit it publicly I think a lot of us feel like we could use an improvement in self confidence. Fortunately there are better advice out there than the often exclaimed "Just be more confident, man!" or "Have another beer!".
Top 24 Tips for Making Your Self Confidence Soar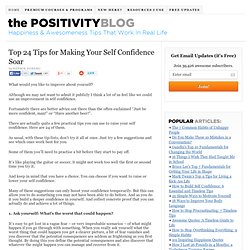 The Art of Staying True to Yourself | Goal Setting Guide
We enter the world as babies bursting with confidence, happy, and totally free to be ourselves.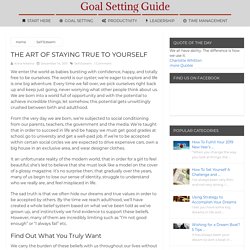 Email Share Sharebar 2174 Email Share