Sigalon
Sam
In the computer business since 1962 - Love IT
Science. Discover Sigalon Valley - Where the Tags are the Topics.
Twitter. Facebook. Test. Listen when Surfing. Sigalon's Channel. Geni. Give Me Something To Read. Do Nothing for 2 Minutes. Qwiki. Emergency and Disaster Information Service. Pearltrees.
Soup.io. News - Selected Content.
The Daily Minimum
The Daily Visits. RSS Quick Reads. The Daily Selections. Uzes. Want to know something? Eva - alltid i våra hjärtan. Anhöriga och vänner tog farväl av Eva - Nora. Torsdagen den 16 juni.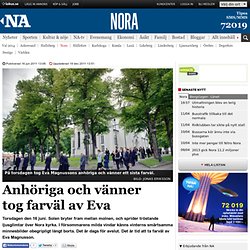 Solen bryter fram mellan molnen, och sprider tröstande ljusglimtar över Nora kyrka. I försommarens milda vindar känns vinterns smärtsamma minnesbilder obegripligt långt borta. Eva - Torsdagen den 16 juni, 2011.
Sigalon - Bookmarks, Blogs and Wikis. All My Faves | Why Search? All RSS Feeds. The Sigalon Story. The Source.
---