Ruimte Welcome to Helioviewer.org, a solar data browser. First time here? Be sure to check out our User Guide. Earth Scale center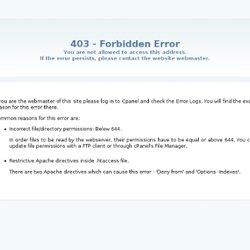 If you are the webmaster of this site please log in to Cpanel and check the Error Logs. You will find the exact reason for this error there. Common reasons for this error are: Incorrect file/directory permissions: Below 644. In order files to be read by the webserver, their permissions have to be equal or above 644.
100 Hours of Astronomy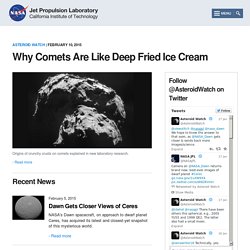 Asteroid 2007 VK184 Eliminated as Impact Risk to Earth Recent observations have removed from NASA's asteroid impact hazard list the near-Earth object (NEO) known to pose the most significant risk of Earth impact over the next 100 years. › Read more (April 03, 2014) › More news Average distance between Earth and the moon is about 239,000 miles (385,000 kilometers). The Asteroid Watch Widget tracks asteroids and comets that will make relatively close approaches to Earth.
Hello From Earth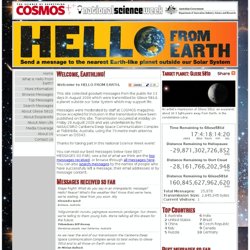 This site collected goodwill messages from the public for 13 days in August 2009 which were transmitted to Gliese 581d, a planet outside our Solar System which may support life. Messages were moderated by staff at COSMOS magazine; those accepted for inclusion in the transmission have been published on this site. Transmission occurred at midday on Friday 28 August 2009 and was undertaken by the NASA/CSIRO Canberra Deep Space Communication Complex at Tidbinbilla, Australia, using the 70-metre main antenna known as DSS43.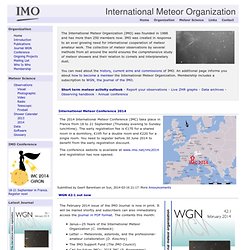 International Meteor Organization
On the 3rd of January near 19h30m UT, the Quadrantids peak to provide one of the best annual meteoric displays of the year. The activity graph below is updated every 15 minutes - click for details. What are the Quadrantids? The Quadrantids are one of the finest annual meteor showers. They are caused by fragments of a comet that broke up in the recent past.
NASA Art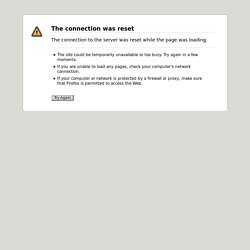 What is the Gateway to Astronaut Photography? The Gateway to Astronaut Photography of Earth hosts the best and most complete online collection of astronaut photographs of the Earth. Beginning with the Mercury missions in the early 1960s, astronauts have taken photographs of the Earth.
March to the Moon