Language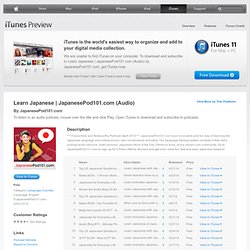 Podcasts - Learn Japanese | JapanesePod101.com (Audio) by InnovativeLanguage.com
Description ***iTunes New and Noteworthy Podcast, April 2012*** JapanesePod101.com is an innovative and fun way of learning the Japanese language and culture at your own convenience and pace. Our language training system consists of free daily podcast audio lessons, video lessons, Japanese Word of the Day, Premium tools, and a vibrant user community. Go to JapanesePod101.com to sign up for a Free Lifetime Account and get even more fun, fast and easy Japanese lessons! Customer Reviews
Learn Japanese Online for Free - it's fun with easy flash quizes!
List of Japanese verbs
Learn Japanese Language Online for Free! | japanese-lesson.com
So, I've been living in Japan for close to 5 months now and unfortunately haven't picked up nearly as much of the language as I'd hoped.
How to Learn Japanese Fast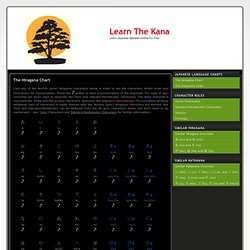 Click any of the Normal (grey) Hiragana characters below in order to see the characters stroke order and mnemonics for memorisation.
The Hiragana Chart | Learn The Kana - Learn Japanese Alphabet Online For Free
Kana Invaders